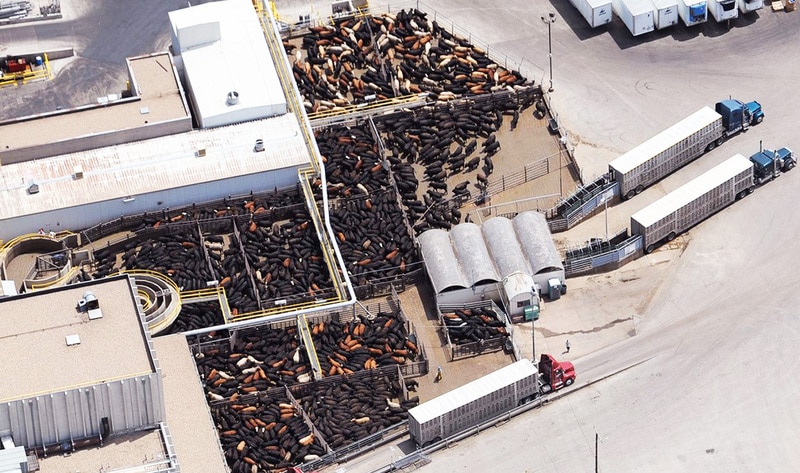 This week, JBS—the largest meat company in the world—reopened its shuttered beef plant in Greeley, CO despite the deaths of five employees as a result of COVID-19. Earlier this month, several employees at the plant became ill and hundreds of others called out of work for fear of contracting the virus—which eventually led to the temporary closure of the plant on April 16, six days after the Weld County Department of Public Health and Enviornment ordered JBS to close and implement plant-wide testing for COVID-19 and more extensive sanitation practices. According to Kim Cordova, president of local labor union United Food and Commercial Workers Local 7, JBS engaged in nefarious testing practices that are now putting its 6,000 workers in danger at the newly reopened meatpacking plant. 
"They had scheduled the testing to happen starting the Saturday before Easter (April 11), starting with their managers and then on Sunday, that Monday, and Tuesday, all workers were advised that they would be testing," Cordova told MSNBC correspondent Rachel Maddow. "Once they started testing their supervisors and it became apparent that their numbers were alarmingly high, they abruptly stopped testing without consulting Weld county and then they just stopped testing. They never tested any of the frontline production workers." Reports indicate that more than 40 percent of the initial higher-up staff tested positive for COVID-19. 
Cordova explained that JBS frontline workers took it upon themselves to get tested for the virus within their communities and several tests came back positive among asymptomatic workers, some that are scheduled to return to work this week. "This is a work while sick culture, and you're seeing it all over the country and we're really worried that more people are going to get sick," Cordova said. "Without the plant-wide testing, workers are very scared. They're also still mourning the deaths of their coworkers and family members of these workers have passed away from COVID, too." 
This week, Trump signed an executive order to keep all slaughterhouses open during the COVID-19 pandemic, offering additional liability protections to corporate meat companies should their workers fall ill. The order was made after top executives from Tyson and Smithfield predicted that a meat shortage was looming due to industry-wide slaughterhouse closures—which were made after workers continued to test positive for the virus and it spread throughout their communities. 
Currently there are 500,000 workers employed by the meatpacking industry and 3,000 have contracted COVID-19, according to non-partisan non-profit organization The National Employment Law Project (NELP)—which advocates for issues affecting low-wage and unemployed workers. "The meatpacking industry is already one of the most dangerous industries in the United States, with injury rates twice the national average and illness rates 15 times the national average. The Black, brown, immigrant, and refugee workers who are disproportionately represented in the meatpacking industry will bear the brunt of this dangerous decision," Debbie Berkowitz, NELP program director for worker safety and health, said about Trump's order. "Even during a global health crisis, the Trump administration has chosen once again to prioritize corporate interests over the health and safety of working people and their communities."
Photo Credit: Greeley Tribune
This content was originally published here.