SALT LAKE CITY — Salt Lake County's social distancing measures have helped slow the spread of COVID-19, according to data released by county leaders. While the metrics used to gauge the extent of the virus's spread were encouraging, county officials said it was still too early to ease restrictions.
"We have a lot of success to date, but we have a long way to go," said Salt Lake County Mayor Jenny Wilson.
The county was asking people to continue to wear facemasks while out in public or heading to stores and to avoid large gatherings.
"The more we do that, the sooner we can go back, and the more confidence we will have," Wilson said.
According to data from the Salt Lake County Health Department, residents were doing a good job of slowing the spread of COVID-19. Right now, the virus is not spreading nearly as fast as it was 50 days ago.
Early in March, six people would become infected for every individual with COVID-19. That ratio was around 1:1.3 in Salt Lake County as of Friday, but county leaders wanted to see that low transmission rate for a continuous 14 days period.
Officials also said it is taking longer for the number of COVID-19 cases to double and the rate of positive cases has remained steady at about five percent since the virus first started to impact the county.
"That's been a very positive indicator that we're not having exponential growth of the disease in the community," said Gary Edwards, executive director of the Salt Lake County Health Department.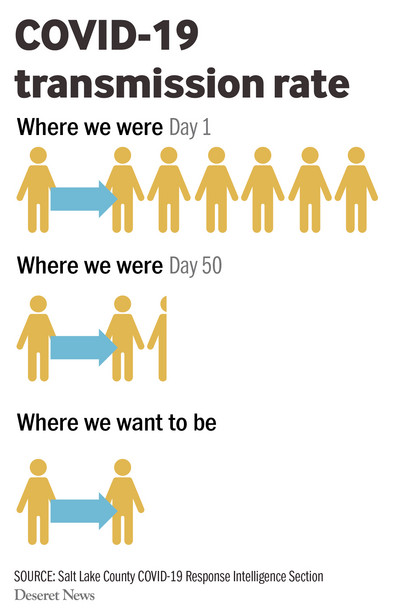 When this pandemic started, county health leaders feared Utah hospitals would be overrun with patients and resources would be depleted. But that has not happened.
"We have not seen any surge on the hospitals. Actually, the hospitals could handle four times as many patients as they are seeing now," said Dr. Dagmar Vitek, medical director of the Salt Lake County Health Department.
The hospitalization rate was holding steady at eight percent, he said. As of Friday, 62 patients were hospitalized in the county after seeing a high of 161 hospitalizations.
"What's even more encouraging is that the transfer of patients to ICUs has been steadily declining," Vitek said.
However, easing restrictions now could lead to a rise in new cases. If the county and state slowly relax some of those community mitigation measures, the peak of new cases won't be too bad, she said.
"We really could've been worse," Vitek said. "I think Utah, in general, and all of the people in it, we're doing an amazing job."
So the county will leave current restrictions in place.
"We are in a health crisis. But we are also an economic crisis. So, balancing that out is very difficult," said Wilson.
Salt Lake County was coordinating closely with the state on plans for reopening, Wilson said. The county was not planning any changes to current restrictions until next week.
More stories you may be interested in
This content was originally published here.