A young child died during an "incident" on a ride at the Glenwood Caverns Adventure Park in Colorado on Sunday, prompting the amusement park to close for two days.
Glenwood Caverns Adventure Park in Glenwood Springs, Colorado, confirmed there was a fatality on the Haunted Mine Drop ride on Sunday evening. Few details have been released about the death, but the park closed on Monday and Tuesday as an investigation is being conducted into what transpired.
The Garfield County Coroner's Office confirmed the victim was a 6-year-old girl and the incident occurred around 7:45 p.m. Although employees of the amusement park administered first aid until paramedics from the Glenwood Springs Fire Department arrived, it was not enough to save the young girl's life. The fire department declared the child deceased at the scene.
The identity of the girl is being withheld until additional family members can be identified, but the coroner's office said she was vacationing in Glenwood Springs with her family. The family is from Colorado Springs, about 220 miles southeast of the Glenwood Caverns Amusement Park.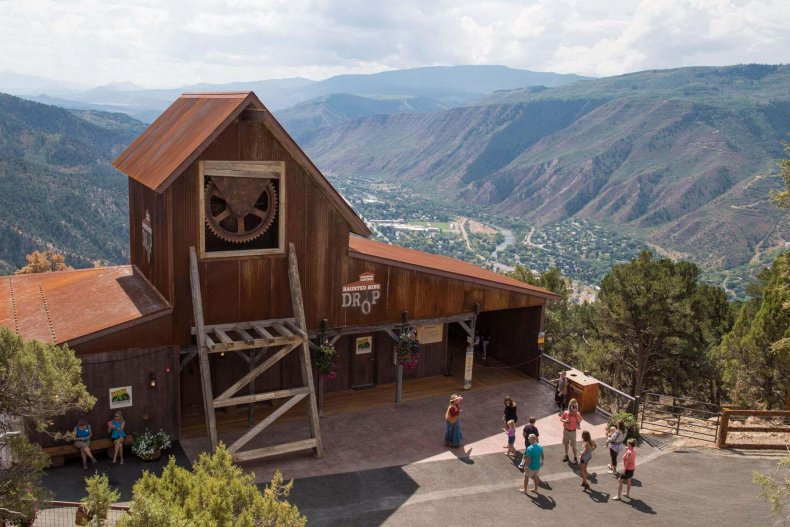 An autopsy is scheduled with the county coroner's office forensic pathologist this week to determine the cause of death.
"The Coroner's Office extends their condolences to the friends and family of the victim," Robert Glassmire, Garfield County Coroner, said in a statement.
When asked for comment on the situation, the Glenwood Caverns Adventure Park reiterated sentiments from the statement posted on their Facebook page.
Aside from announcing there was an incident, an investigation was underway and that the park was closed, the Glenwood Caverns Adventure Park has remained quiet on the issue.
"Out of respect and concern for all parties involved, we will not have further comment until all details have been confirmed. Our thoughts and prayers go out to all involved," the park said in a statement posted on its Facebook page.
The Haunted Mine Drop is the world's first drop ride to go underground. It plunges riders 110 feet down inside Iron Mountain, according to the amusement park's website.
In response to the park's announcement about the death, Facebook users offered their thoughts and prayers to the family and expressed sadness at the young girl's death. Others also expressed their intentions to pray for those who witnessed the child's death, including any employees of the park. Several people commented that they'd visited the park and felt safe on the rides.
Update – 9/6/21- 3:10 PM ET – This article has been updated with comments from the Glenwood Caverns Adventure Park and Robert Glassmire, the Garfield County Coroner.
This content was originally published here.