Rock icon Neil Young has made his archival catalog available to stream to keep people entertained while in self-isolation, according to a press release from his record company.
Young's online archive consists of previously unreleased live cuts, alternate takes and more. The collection is bound to keep his fans entertained for hours on end, as they explore the rare versions of Young's music.
Along with the vast collection, Young's Fireside Sessions are also available from the website. The Fireside Sessions consist of the musician's livestreams.
"Hope you're all doing well out there, everybody. It's a different situation," he said in his second session.
Along with playing a number of his classic songs, Young also encouraged his fans to do their best in preventing COVID-19's spread by washing their hands. "Our sponsor, folks: water and soap," he said. "A soap opera, that's what this is a soap opera," before singing the last line of "Happy Birthday," a humorous reference to singing the song to make sure you've washed your hands long enough.
The sessions, filmed by actress and Young's wife Daryl Hannah in his Colorado home, are some of the songwriter's most intimate, only accompanying himself on an acoustic guitar or piano. Young intersperses his songs with glimpses into his life, like the aforementioned washing his hands or taping a harmonica on top of the other.
So far Young has kept his sets brief, with each only consisting of six songs.Nonetheless, the sessions still serve as an opportunity to hear the singer scaled down, only accompanying himself. In his most recent session, some of his selections included "On The Beach," the Crazy Horse track "Love and Only Love," and the fitting "Homefires." According to Rolling Stone, this marks the fourth time Young has played "Homefires" by himself since 1975.
The footage of Young playing in his own residence is mesmerizing with him playing outside in the snow and in front of a roaring flame in his fireplace.
Young is not the first artist to stream shows from his home amid the coronavirus pandemic. Pittsburgh metal band Code Orange streamed a concert from an empty venue, after having to cancel their record release show. Death Cab for Cutie and the Postal Service's Ben Gibbard has played nightly acoustic livestreams, recently taking requests for various themed shows pulling from different eras of his catalogue. His last daily livestream will be Sunday, featuring a set of all covers as requested by fans.
Like Young, fellow musician Bob Dylan also went back to his archives to unveil a new song, the 17-minute "Murder Most Foul."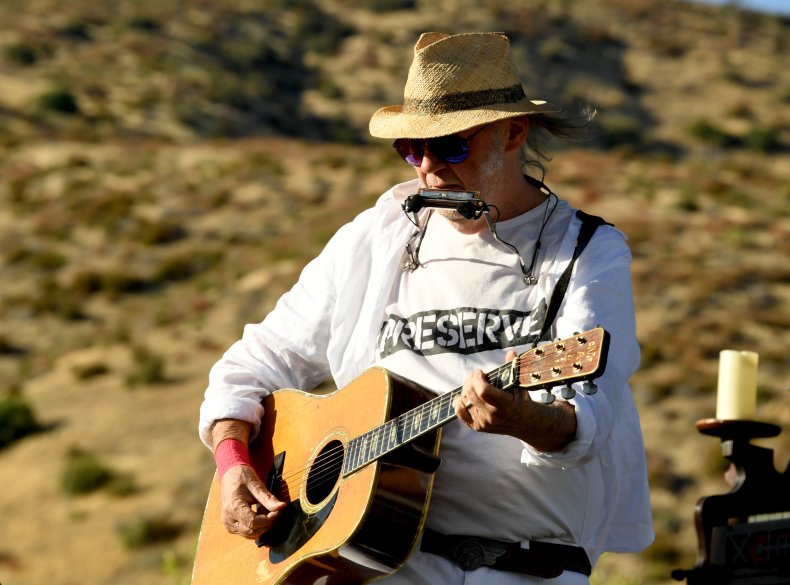 Neil Young performs at Harvest Moon: A Gathering to benefit The Painted Turtle and The Bridge School at Painted Turtle Camp on September 14, 2019 in Lake Hughes, California. Young has been recording short sets inside his home amidst the coronavirus pandemic.
Kevin Winter/Getty
This content was originally published here.