Contact:   Marty Schechter for CAR
303-882-4585 cell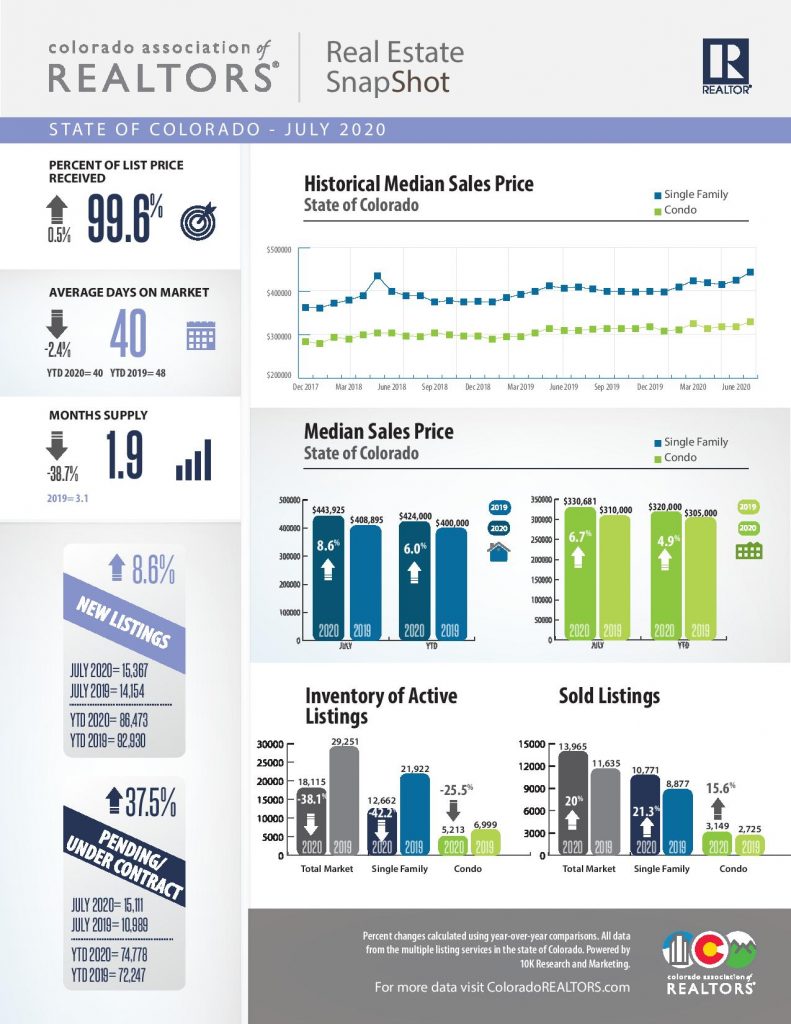 ENGLEWOOD, CO – Aug. 12, 2020 – A record number of single-family homes sold in July have shattered state records and driven median home prices to record highs as well, according to the latest monthly housing data from the Colorado Association of REALTORS® (CAR). Despite another strong month of new listings, a third straight month of record-setting pending and under contract homes is likely to keep the low inventory environment a significant obstacle in the market for the foreseeable future.
A record 10,771 single-family sold listings, up 15.7 percent for the month and more than 21 percent year-over-year, took place across Colorado in July. Of those, 6,500 happened in the seven-county Denver metro area, up just shy of 14 percent from June to July and +20.4 percent from July 2019. And yet, despite another impressive month of new listings, 11,417 statewide, 6,836 in the metro area, a third straight month of pending/under contract properties matched those new listings step-for-step driving median home prices to new record highs.
Sold Listings – Denver Metro area (Adams, Arapahoe, Boulder,
Broomfield, Denver, Douglas and Jefferson counties)

Sold Listings – Statewide

Statewide, the median
home price rose 4.5 percent from June to July to $443,925 and is up 8.6 percent
year-over-year. Looking at the seven-county Denver metro area, the median home
price hit $489,500, up 5.3 percent from June to July and up nearly 9 percent
from July 2019.
As expected, the combination of factors
continues its significant impact on inventory. Single-family active listings
dipped more than 11 percent from June to July statewide and are down more than
42 percent year-over-year. In the Denver metro area, single-family active
listings were down 11.6 percent from June to July and were off 47 percent from
July 2019.
Pending/Under Contract – Denver Metro area (Adams, Arapahoe, Boulder, Broomfield, Denver, Douglas and Jefferson counties)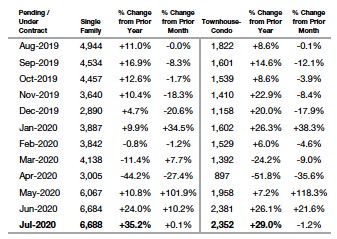 Pending/Under Contract – Statewide
"Many national economists predicted, back in the midst of our quarantine,
that our typical spring selling season would move into the summer months and
the July statistics for the Denver metro region would confirm that
prediction. We saw an 11.8 percent increase in single-family new listings compared
to last July, with the townhouse/condo market rising 19.5 percent. These
are the numbers we would have expected to see in March and April during a
normal market. Despite the inventory increase in July, the robust buyer
activity continues to consume any and all new listings that are priced
appropriately within 30 days of coming on the market. This market
continues to be a challenge for buyers, as they have fewer properties to choose
from, competition is fierce and the average and median prices continue to move
upward. 
"For sellers, assuming they have located their future housing, it's a
great opportunity to reap the benefits of strong appreciation. Single-family
homes have appreciated 5.7 percent year-to-date compared to last year and townhouse/condos
have seen a 6.2 percent increase in the median sales price year-to-date. Interest
rates are at record lows, which is a definite help to the affordability
challenge. Lastly, it is important to note that closed sales were lagging
behind the past several months and we experienced a huge increase in
transactions getting to the closing table in July, with a 20.4 percent increase
in closed transactions for single-family and a 19.6 percent increase for townhouse/condos,
compared to July 2019. With overall housing activity continuing to be strong,
August should look a lot like April and May generally did," said Denver-area REALTOR® Karen
Levine.
Taking a look at some of the state's local market conditions, Colorado Association of REALTORS®market trends spokespersons provided the following assessments:
AURORA
"COVID has not slowed the Aurora/Centennial markets in any way as sold
listings rose significantly across all zip codes and inventories dipped as much
as 40 to 60 percent, depending on the location. The City of Aurora is
experiencing an inventory shortage of nearly 44 percent, with the number of
solds up 20.5 percent. The month of July delivered 629 sold homes compared to
539 at this time last year. It stands to reason that the median sales
price is up to $417,000 driven by the continued low inventory and high
demand. Townhomes/condos are seeing the same scenario with decreased inventory,
increased volume of solds and median price up 9.1 percent.    
"Centennial's inventory shortage, down 58 percent from a year ago, is
higher than what is seen in Aurora. Sold homes remained flat with 2019 however,
median pricing rose in Centennial to $514,000. Low interest rates and high rental
rates are creating an enormous demand for the opportunity to purchase. Buyers
need to make a decision in a short time frame and be prepared for bidding wars
with low inventory throughout these markets," said Aurora-area REALTOR® Sunny Banka.
BOULDER/BROOMFIELD
"For those who thought the pandemic would slow down the real estate market,
they haven't visited Boulder County lately. Inventory remains very tight, with
11 percent fewer listings available today than this time last year. Demand
remains high and, with the combination of low supply and high demand, prices
are up 9.4 percent from this time last year for single-family
homes. Townhomes and condos haven't fared as well with no price increase
compared to July 2019. This may be due to fewer college students attending
CU and buyers generally wanting bigger spaces in which to work and live. Buyers
are price sensitive, and those listings that aren't priced correctly will need
to make some changes to experience a sale under the average of 47 days. Our
spring market has moved into summer.
"Broomfield County is plugging along at a nice, steady pace with single-family
homes selling in under 30 days and a healthy but reasonable appreciation of 4
percent since the beginning of the year. Homes with two work/ study spaces are
increasingly popular and the ones with outdoor living spaces are more desirable
than those without. Even townhomes and condos are experiencing a steady price
gain of 5 percent more than the beginning of the year. The relative
affordability of Broomfield County continues to make it a popular place and the
demand from buyers to live there is high," said Boulder/Broomfield-area
REALTOR® Kelly Moye.
COLORADO SPRINGS/PIKES PEAK AREA 
"The current housing availability situation in the Colorado Springs area housing market resembles the shocking 'new norm reality' of empty shelves in March 2020 in almost all the grocery stores. In July 2020, there were only a meager 1,390 active listings of single-family/patio home for sale with 1,978 sales during the month, representing a new metric of over 142 percent sales of the active listings. Buyers waited on an hour-by-hour basis for the new listings to show up, then competed to win the bidding wars.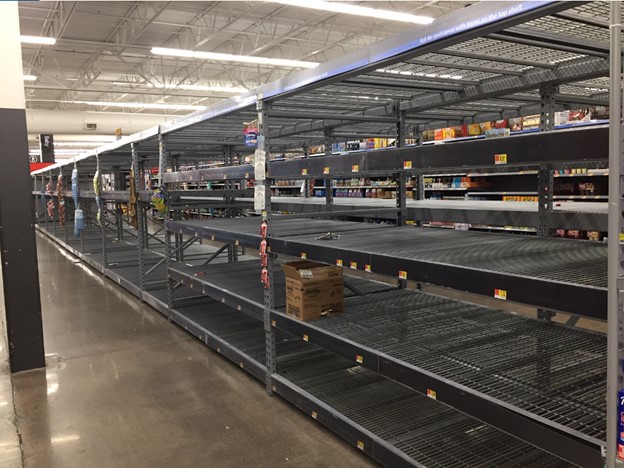 "Last month, the Colorado Springs-area housing market with a scarce
level of 0.7-month supply of single-family/patio homes reached the highest
level of monthly sales, monthly and year-to-date sales volumes, as well as the highest
level of average and median sales prices, compared to any July on record. The year-over-year home sales activity
saw a 19 percent increase in monthly sales, a 37 percent surge in the months'
sales volume, a 9 percent increase in the year-to-date sales volume, 15 percent
increase in the average sale price, and 13 percent increase in the median sale
price. The average sales price rocketed to $427,593, and the median sale price
soared to $375,000. All of this while, distressingly, active listings shrunk by
more than 37 percent.
"When looking back 5 years and comparing single-family/patio homes sales
in July 2015 with July 2020, monthly and year-to-date sales are up 45
and 20 percent, respectively, monthly sales volume spiraled 125 percent,
year-to-date sales volume soared 78 percent, median sales and average sales
prices climbed 55 percent. All of this escalation took place while active
listings were down by over 59 percent.  
"Last month, 78.2 percent of the single-family homes sold were
priced under $500,000, 18.3 percent were between $500,000 and $800,000, and 3.5
percent were priced over $800,000. Year-over-year, there was over 39 percent
drop in the sale of single-family homes priced under $300,000, primarily due to
the inventory shortage, while a 68 percent increase in homes priced between
$400,000 and $600,000, a 113 percent increase in homes priced between $600,000
and $1 million, and over $1 million.
"Even in a strong real estate market, buyers generally purchase
properties offering competitive values. Unsurprisingly, over 26 percent of the
El Paso County and 22 percent of the Teller County active listings in the Pikes
Peak MLS had price reductions.
"Sadly, pathetically
low inventory and affordability
challenges due to ever-soaring prices continue to be the most problematic
aspect of the Colorado Springs area housing market,
especially for first-time homebuyers. Though
the current level of escalated prices presents a daunting challenge for our
local buyers, for buyers from the Denver area, our housing prices are still
very attractive. As a result, we continue to see a steadily increasing
interest of Denver buyers in our Colorado Springs listings," said Colorado
Springs-area REALTOR® Jay
Gupta.
"July featured hot
weather and an even hotter housing market. We hit the summer run with a 14.4
percent increase in values in one year across all properties sold. As we
continue to see low inventory in our area, the prices keep pushing double
digits. We had a 37.6 percent drop in active listings and there is simply no
good housing news for buyers related to selection and price. The one bright
spot was lower interest rates however, prices quickly pushed up taking away
that buying power. 
"On the flip side,
we are pacing at the highest unemployment numbers since the great depression.
Since COVID-19 hit, we have seen massive unemployment claims every month across
this great nation. At this time there is a total disconnect with half the
economy being crushed and yet, housing has mostly shrugged it all off. Like the
stock market, bad news is good news for both, it appears. The total number of
business closings is catastrophic. It is estimated by many that a third of all
restaurants are simply not coming back. Small business is getting blown out,
people are not working, and yet housing continues to be unaffordable.
"A few things to
watch as we move forward locally and nationwide include unemployment claims,
business closures, interest rates, FED purchasing of all assets, gold and
silver prices, and inflation. The FED has literally printed trillions of 'dollars'
on a screen and gold and silver prices show that people are nervous. Gold
pushed above $2000 per ounce and silver flirted with $30 per ounce. The 10-year
yield continues to sit at record lows and low interest rates are starting to
push prices up. Food prices are increasing at an alarming rate and we need to
remember that everything that is inflating isn't counted towards inflation,
housing and food included. 
"For sellers in our region, the story remains the same, it's a great time to sell. There is very little competition and plenty of approved buyers. Buyers beware, and not for the normal reasons. There is going to be very little to pick from and you are likely going to compete many times before finding your home. Patience is key in our current market," said Colorado Springs-area REALTOR® Patrick Muldoon.
CRESTED BUTTE
"July is always a busy month for real estate in Crested Butte and Gunnison,
but this year is over the top. August may turn out to be the single
biggest month ever for closed sales and will more than wipe out all lost
business from April, May and June. Many thought prices would take a hit after
the shutdown in Colorado, but that has not been the case. The year started out
strong and prices have remained steady or gone up slightly since we
reopened.  
"Contracts for single-family homes are up almost 30 percent from 2019 while
new listings are down almost 20 percent. Well priced homes are seeing multiple
offers and going under contract in days – sometimes hours. Condos and townhomes
have the opposite numbers with contracts down 10 percent from 2019 and new
listings up 14 percent. There are more Mt. Crested Butte condos on the
market right now than at any time since 2016. With the uncertainty around
COVID, the upcoming ski season and potential rental income, buyers seem to want
some private outdoor space that they can get with a single-family
home. Also, many are planning to spend more time here or move here so they
aren't as dependent on rental income to support the purchase which is usually
necessary for many condo buyers.
"The Gunnison Valley still has a lot of vacant land available and there
are opportunities for people who want to build rather than select one of the
existing homes. There are many choices for land buyers, but we are
starting to see an uptick in sales which is a welcome sign for sellers.
"It is tough to say if this market is a temporary situation or if buyers
will continue to want to spend time in a small resort town. With the election,
recession and economic uncertainty, anything is possible, but local REALTORS®
remain optimistic and are working hard for their clients to make things happen
while things are hot," said Crested Butte-area REALTOR® Molly Eldridge.
DENVER
"Look no further than
Denver's housing as evidence of a change in dwelling-type preferences as we
enter the half-year mark of COVID in America. Single-family homes are in
exciting demand while the more urban and less socially distanced condo market
shows a notably different attraction.In July 2020, there were 19.8 percent more single-family
residences that came to the market year-over-year, compared to a whopping 36
percent more in the condo/townhome category.
"While the
single-family's 19.8 percent increase is large, and quite newsworthy all on its
own, July also produced more sales than in recent years, 24 percent more than
2019 in fact, which did the already hurting supply no favors and brought down
inventory as a whole. Meanwhile, with 36 percent more condos and townhomes
entering the market than this time last year, only 13 percent more sold, which
had the opposite effect of single-family, giving a large boost to the supply of
this market.
"The evidence
suggests that the demand for living a little further away from one another, the
need for a home to now be a gym, an office, a studio and yes, a daycare may be
a trend we aren't likely to see change in the foreseeable future," said Denver-area
REALTOR® Matthew
Leprino.
DURANGO
"During the COVID
times of social distancing, Durango and the surrounding areas of La Plata
County are viewed by out-of-area buyers as highly coveted for their remote feel
and attractive urban center. Layer on top record low rates to entice local
owners to refinance and stay put and you create our current market – a severe
inventory crunch.
"In July, new single-family
listings were down 39 percent from July 2019, with condo/townhomes down 26
percent. Even so, combined countywide sales in July are up 30 percent from July
2019.  REALTORS® are experiencing multiple offers on many
properties, including the $1 million plus category. Land is increasingly
desirable to buyers who cannot find a home suitable for them. Our median sales
price has been steadily climbing this year. Left out of the market rush may be 'family-style'
homes in our mid-ranges, and condos/townhome sales which are down 28 percent
for year-to-date. Are these buyers more affected by the COVID-19 economy? Do
our family buyers have too much on their plate with the uncertainty of school
opening? Overall, combined countywide sales are up 2 percent year-to-date.
While we do not know how long this market will last, REALTORS® are
right now working double time to find inventory for their frantic buyers," said
Durango-area REALTOR® Jarrod
Nixon.
ESTES PARK
"Larimer County seems to have bounced right back from the early spring
slump. Inventory is still tight with new listings in townhouse/condos
decreasing nearly 11 percent over July last year and year-to-date. On the
contrary, new listings for single-family homes have increased 6.9 percent over
July 2019, and a slight decrease year-to- date at -2.3 percent. This is to be
expected with low inventory and a slow start to the summer season. With the
temperatures heating up, so is the real estate market. Sold listings are
staggeringly higher than July last year with the number of single-family homes closed
up 31.2 percent, and townhouse/condos keeping pace at + 24 percent. Overall,
2020 as compared to 2019 has a less than an impressive increase at 0.3 percent
for single-family homes and 2.8 percent more for townhouse/condos. Even with
current economic shifts and uncertainty, homes are not sitting on the market
indefinitely or being sold for pennies on the dollar. Single-family homes are
currently closing at an average 55 days on market. Townhouse/condos are staying
on the market 69 days, as compared to July 2019. This is a reduction of 8 percent,
from 75 days on the market. Average sales price shows demand is still strong.
Single-family homes crept up 3.2 percent over July 2019 and year-to-date is up
2.3 percent. Townhouse/condos have been consistent in continued desirability
and affordability. Average sales price has increased 6.4 percent year-over-year,
and year-to-date, fetching $339,681 versus $319,128 in July 2019. Single-family
homes are increasing as well from $467,650 to $482,848 over July 2019, a 3.2
percent increase. 
"Estes Park has some incredible numbers for July. Closed sales for townhouse/condos
are up an astonishing 162.5 percent compared to July 2019 while year-to-date townhouse/condos
closings are up just 11.8 percent. Single-family homes are also closing like crazy,
a 38.9 percent increase in July over last year. Considering the slow start to
the year, this is great news. Single-family homes are fetching nearly 30
percent more in average sales price and townhouse/condos are up 8.5 percent
over July 2019," said Estes Park-area REALTOR® Abbey Pontius.
FORT COLLINS
"The proverbial pause button that was pressed for March and April
housing activity has shifted to 'fast-forward.' The continuation of amazingly
low interest rates and high buyer demand has made this summer selling season
feel like you're watching a YouTube video at 1.5x speed. Transactions that
generally would have been completed over a period of five months have been
squeezed into three months. Schools have effectively been offline for 90
days and so the typical lull in the summer when families are on holiday has
also been disrupted and the market statistics for July are showing there
doesn't seem to be any let-up in transactions with total sold properties up
over 19 percent compared to July of last year.
"The one aspect of the housing reports that is still playing catch-up is
new listings. Sellers have not been as earnest as buyers in this pandemic
influenced real estate cycle. Inventory remains tight, but compared to
last year's numbers, total listings available for single-family homes crept up
by just over 5 percent. Competing offers in the median price points are quite
common and sellers need to ensure their homes are in top shape to assure
over-asking purchase offers.
"Tight inventory, low interest rates, high demand…sounds like a recipe
for price appreciation, right? That is the typical result of those ingredients,
but our market seems to have stabilized a bit with median priced, new
construction homes helping maintain a slightly increased but essentially flat
year-over-year appreciation number.
"With the public schools announcing their plans for Fall, which appears
to be keeping kids at home in the first few months of the term, we may see an
extension of the active summer selling season through October. Sellers
with well-priced and nicely-updated homes can still take advantage of this
accelerated season of heightened activity ahead of the change in weather
patterns," said Fort
Collins-area REALTOR® Chris Hardy.
GLENWOOD SPRINGS
"The weather is hot,
and the market is even hotter. As we saw earlier this summer, the scare of COVID-19
was short lived in the Roaring Fork and Colorado River Valleys. New listings
are down 5.1 percent for single-family homes and -4.4 percent in the townhome/condo
market. The month of July has seen the greatest increase in the pending and
sold data. Pending home sales are currently up almost 75 percent in the single-family
market and 36.6 percent in townhome/condo properties. Sales of single-family
homes were up 77 percent with the townhome/condo market staying more comparable
to 2019 with just a 5.1 percent increase. 
"Our local market
continues to suffer from a lack of inventory as sellers remain reluctant to
list. Active listings were down over 60 percent from this time last year.
However, we have seen an uptick in the sale of vacant lots as buyers frustrated
with the lack of inventory consider building. Agents
across the valley continue to report buyers coming in droves from large cities
looking for their spot in the market as those cities deal with continued issues
and uncertain futures. Sellers looking to relocate and move out of the valley
are cashing in on what might be the most robust market since 2007," said Glenwood Springs-area REALTOR® Erin Bassett.
GOLDEN/ARVADA – JEFFERSON COUNTY
"The Jefferson County market has been hot all summer and remains so. However,
last week it did take a dip with the momentum of buyers in the market. It
looks like it will remain a seller's market for quite some time with inventory
for single-family homes down more than 50 percent. The median sales price
did rise 8.2 percent to $530,000 as the demand remains high and the inventory
low.
"For townhome/condos, the inventory has decreased 32.8 percent from this
time last year. The median sales price of $306,250 is up 5.6 percent
year-over-year with an average 19 days on market, the properties are flying off
the shelf," said Golden/Jefferson County-area
REALTOR® Barb Ecker.
GRAND JUNCTION/MESA COUNTY
"Mesa County and
Grand Junction continue to see inventory decline, even as demand stays steady
and, in many price points, increases. Comparing July 2020 to July 2019,
new listings are down 433, 17.8 percent, with pendings and solds both exceeding
that number. Total inventory levels shrank by 42.7 percent to a total of 595.
Prices continue to rise month by month and the median sales price has now
reached $290,000, the average sale price is up 9.2 percent to
$320,394. This creates an affordability index of 108, which is making it
difficult for buyers to afford. The low interest rates currently available are
helping in that regard, giving the buyer more purchasing power. Not reflected
in some of these statistics are some new home areas where everything is under
contract, with reservations and contract for next phases to be built don't
reflect in these statistical numbers. As the inventory continues to decline
affordability will continue to be an issue," said Grand Junction-area
REALTOR® Ann Hayes.
PAGOSA SPRINGS
"Summer 2020 is rocking with
out-of-staters in record numbers, including short term rental bookings and real
estate purchases. Locals are
outnumbered 4-to-1 by travelers and second homeowners seeking an escape
from COVID quarantines. Typically, Texas, Oklahoma, Arizona, New Mexico,
and front range Colorado buyers have held buyer purchase positions
respectively. However, this summer has produced more California and big city
buyers from across the nation seeking a rural atmosphere with a work from home,
remote school, live in a smaller community approach. Pagosa Springs is no
longer the best kept secret in affordable rural mountain town living. In July, pending
sales soared to almost twice the number of sales in 2019, at 114 units. With
sales in June and July, summer sales are up 20 percent from the same time last
year, even with a 30-day real estate market COVID shut down. Sellers will be
happy to see July's 16.3 percent increase in median sales price ($335,000)
which contributed to the decrease in listing inventory, down almost 39
percent. Low inventory also contributed to second homeowners using their Pagosa home as
a COVID get-away for them and their families with no desire to sell. 
"Sales continue to hover at about 96
percent of list price, with exception to homes with major price reductions.
Days-on-market continue longer than most Colorado areas at 149 days, due to the
discretionary second home resort
buyer. Buyers who are not savvy in making the right offer price are
disappointed to have their offers countered or find themselves in a multiple-offer
scenario. With an all-time low six-month supply, inventory continues to be the
wilted flowers in a bouquet of a robust real estate market. Neighboring
Rio Grande County (South Fork) is experiencing the same trend. 
"Low inventory has also contributed to the
high volume of lot and land sales over the past two years as buyers understood
they needed to secure land and build later. Unfortunately, this game plan has
also presented wilted flowers in the bouquet, as building prices have skyrocketed
and there is reduced contractor availability. Land buyers have come to the
reality they may not be able to afford to build the home of their dreams and are
placing land properties on the market. Others have downsized home plans with
efforts to stay on budget. There are still a good number of affordable off-grid,
one-acre, non-covenant lots to accommodate those desiring seasonal RV living.
Inventory in the off grid lots is at an all-time low. Will the autumn bouquet
of real estate in Pagosa Springs become more vibrant? Only mother nature and
the COVID pandemic results will have the answer," said Pagosa Springs-area REALTOR®Wen Saunders.
PUEBLO
"Pueblo's housing market stayed very active in July with new listings up
13.4 percent compared to July 2019.
Pending sales were up 43.6 percent over last July and remain up 8.3%
year-to-date. Sold listings were also up 8 percent year-over-year. We also saw
a big change in median sales price, rising to $245,000. With just 270 active
July listings, we were down more than 45 percent from a year ago, leaving us
with just a 1.2-month supply of inventory.
"New construction has been strong with 57 new permits in July bringing
the total for the year to 319," said Pueblo-area REALTOR®David
Anderson.
STEAMBOAT SPRINGS/ROUTT
COUNTY
"Sellers are in the driver's seat in Routt County with housing
inventories down 50 percent from where they were at this time last year. Buyers
looking to purchase in Steamboat, Hayden, Oak Creek and Clark should not be
surprised to find themselves in a multiple-offer situation – no matter what
price range they are in. As a county, the number of new listings for the month
was equivalent to last year, but still down 17.4 percent year-to-date. To
underscore the inventory situation, the current number of residential listings
under contract in all of Routt County is 299 with available inventory at 239.
Vacant land contracts have surged since May 30, with 55 out of 63 parcels
executed during this time at an average list price of $455,888 and a median price
of $305,000. The upper end market of $2 million plus realized 37 sales in
2019 and the market currently has 44 listings either under contract or closed
in this price range.
"Buyers with an understanding of the market are enlisting a broker who
is actively looking for them. Some properties are going under contract with
virtual showings with out-of-town buyers knowing time is not on their
side. Typically, a seller would already have their property on the market
for this prime selling season; however, we still see new listings trickling on
the market," said Steamboat Springs-area REALTOR® Marci Valicenti.
TELLURIDE
"July 2020 sales for
the Telluride market area were up 118 percent in dollar volume over July 2019,
a number that was up 29 percent over July 2018. At the end of July, total
dollar amount of sales was up 52 percent over the first seven months of 2019.
According to Land Title Guarantee, the largest number of sales in any one month
was back in 2007 at around 80. By Tuesday, August 4, Land Title Guarantee had 100 contracts
for the month, with 18 contracts coming in that day. With what could be the
best year in my 37 years as a real estate broker in the Telluride market, I
can't remember getting as many buyer referrals in a 60-day period, ever. New
listings coming on the market are at least 10 to 15 percent higher asking price
than just three months ago. For the first time in my career I have a buyer that
contracted a townhome for $4.2 million without viewing it in person. I am
concerned that we may just run out of inventory. Yes, there are some new listings
coming on the market each week with much higher asking prices, but I believe
eventually our market might just get too expensive for at least half of our
buyers. Lastly, almost every broker and many of our clients see an economic
downturn for our whole country in the fall due to federal stimulus money
running out and a huge unemployment forecast for certain industries like
hotels, restaurants and airlines. We are on a real estate journey the likes of
which I have never seen before," said Telluride-area REALTOR® George Harvey.
VAIL
"July has followed
the momentum from June as closed transactions for single-family-duplex units
positive 58 percent compared to July 2019. Townhouse-condo units were plus
6 percent versus July 2019. The strength of the month made a significant
move versus the year-to-date performance which is down 10 percent on single-
family-duplex and 25 percent on townhouse-condo homes. The combined
categories are at a negative 18 percent which improved year-to-date performance
compared to July 2019.
"Pending sales 2019
versus 2020 July are 68 percent positive on all product types which should help
make more progress relative to 2019 performance. The lack of inventory in
key pricing niches is a potential impediment to making up transaction volume
unless we get more inventory in the market. On a macro basis, inventory is down
41 percent on single-family-duplex and 14 percent on townhouse-condo
units. One niche which does have typical inventory is the $5 million-plus
price range. This niche generally represents approximately 4 percent of
transactions and varies between 30-40 percent of dollar volume. There were
two transactions in early August that bode well for the niche. One for $24
million and another which was both sides of a duplex for $57 million. Those
numbers indicate a very healthy August performance.
"The vagaries of the market, which may leave an impression of unbridled new business, require a knowledgeable representative to help buyers and sellers work their way through the process to achieve their goals," said Vail-area REALTOR® Mike Budd.
Median Sales Price – Denver Metro area (Adams, Arapahoe, Boulder, Broomfield, Denver, Douglas and Jefferson counties)
Median Sales Price – Statewide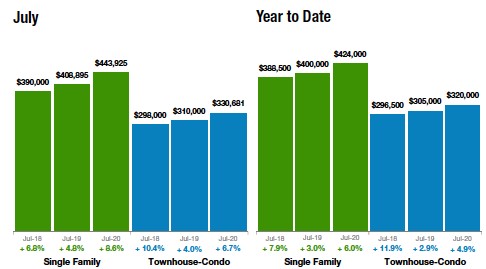 The Colorado Association of
REALTORS® Monthly Market Statistical Reports are prepared by Showing Time, a leading showing software
and market stats service provider to the residential real estate industry and
are based upon data provided by Multiple Listing Services (MLS) in Colorado. The
July 2020 reports represent all MLS-listed residential real estate transactions
in the state.  The metrics do not include
"For Sale by Owner" transactions or all new construction. CAR's Housing Affordability Index, a measure of how affordable a
region's housing is to its consumers, is based on interest rates, median sales
prices and median income by county.
The complete reports cited in this press release, as well as county reports are available online at: http://www.coloradorealtors.com/market-trends/
###
CAR/SHOWING TIME RESEARCH METHODOLOGY
The Colorado Association of REALTORS® (CAR) Monthly
Market Statistical Reports are prepared by Showing Time, a
Minneapolis-based real estate technology company, and are based on data
provided by Multiple Listing Services (MLS) in Colorado. These reports
represent all MLS-listed residential real estate transactions in the
state.  The metrics do not include "For Sale
by Owner" transactions or all new construction. Showing Time uses its
extensive resources and experience to scrub and validate the data before
producing these reports.
The benefits of using MLS data (rather than
Assessor Data or other sources) are:
Accuracy and Timeliness – MLS data are managed and monitored carefully.
Richness – MLS data can be segmented
Comprehensiveness – No sampling is involved; all transactions are included.
Oversight and Governance – MLS providers are accountable for the integrity of their systems.           
Trends and changes are reliable due to the large number of records used in each report.  
Late entries and status changes are accounted for as the historic record is updated each quarter. 
The Colorado Association of REALTORS® is the state's largest real
estate trade association representing more than 26,800 members statewide. The
association supports private property rights, equal housing opportunities and
is the "Voice of Real Estate" in Colorado.  For more information, visit .
This content was originally published here.