Residents of Broomfield, Colorado, recounted initial impressions to large pieces of machinery that landed in and around their properties Saturday, when a United Airlines plane engine malfunctioned shortly after taking off in Denver.
Mary Ellen Sucato, who told the Denver Post that she has lived in the neighborhood for almost 50 years, was surprised to see an enormous chunk of debris fall from the sky before nearly crashing into the home opposite hers. Sucato said she wondered if the town was bearing witness to extraterrestrial visitors.
"At first, I thought it was part of a UFO," she recalled, according to the Post. Earlier, the 81-year-old reportedly remembered questioning whether "we were under attack" in additional comments to the newspaper.
In reality, the unidentified flying object that Sucato referenced belonged to a Boeing 777 engine, which was originally attached to United Flight 328 as it departed Denver International Airport en route to Honolulu on Saturday afternoon. The engine quickly caught fire and subsequently began showering scraps across Broomfield.
The 20-foot-wide, circular piece that Sucato described fell quite close to her neighbor's front porch, as video footage shows.
UNITED AIRLINES ENGINE FIRE pic.twitter.com/tDyDdEM03j
— FXHedge (@Fxhedgers)
Sucato's neighbor, Broomfield resident Kirby Klements, thought it might be a trampoline before taking a closer look.
"My wife and I were sitting in the living room, reading the paper when we heard a loud bang," said Klements in a videotaped interview, which saw the Broomfield resident standing in his yard with debris in the background. "[We] kind of looked at each other, trying to figure out what that was. And then, there was a large bang, crashing noise. And this piece behind me fell over in front of our front window."
Kirby Klements of Broomfield describes his Saturday, when debris from a jet landed in his yard. pic.twitter.com/XsQ223Isol
— kieran nicholson (@kierannicholson)
"So, first I thought it was debris from a trampoline from my neighbor's yard," he continued. "Came out, looked at it and knew right away that it was the front of an engine of an airplane."
The Broomfield Police Department shared images of additional debris that landed elsewhere in the area around 1 p.m. local time.
Getting reports that a plane flying over @broomfield had engine trouble and dropped debris in several neighborhoods around 1:08 pm. No injuries reported at this time. Plane did not land in Broomfield. Media staging area TBD. pic.twitter.com/Oc02vUWFdn
— Broomfield Police (@BroomfieldPD)
The United flight returned to Denver airport safely, and none of its passengers or crew members sustained injuries. There were no reported injuries due to falling debris either, according to police.
The National Transportation Safety Board (NTSB) is currently leading an investigation into the Boeing plane engine's failure and why it occurred. Broomfield Police redirected any public inquiries about the accident to the government agency later on Saturday.
Newsweek reached out to the NTSB for comment, but did not receive a reply in time for publication.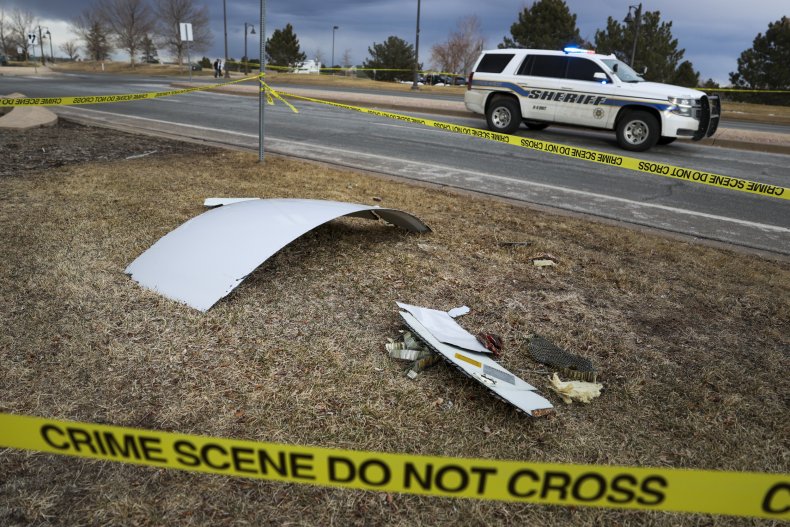 This content was originally published here.