SALT LAKE CITY — Salt Lake County health officials announced earlier this week they found that most county residents are still complying with the county's face covering mandate two months after it went into effect.
But where are people wearing face coverings, and how does it compare with other areas of the state that county officials observed?
Salt Lake County officials conducted a quick survey of businesses in July to see how well residents were complying with the county's face-covering mandate — nearly a month after it went into effect June 27. The survey found mask-wearing rates above 90% in the county and much lower rates in outside counties.
They released a portion of a second, more detailed study during a county council meeting Tuesday, which found that nearly 90% of Salt Lake County residents observed at stores wore masks effectively.
The results were compiled from observing 2,874 people at 130 public businesses throughout Salt Lake, Davis, Summit, Utah and Washington counties, as well as in the city of Logan. Of those jurisdictions, Salt Lake and Summit counties and Logan currently have mandates for people to wear masks in public spots.
Officials went further into detail about what they found during a roundtable with members of the media Thursday. Their study found, as one might suspect, that areas with mask mandates had a higher percentage of mask-wearing people than places with no mandates. It also found some variances in the type of store face coverings were being worn in, as well as who generally isn't wearing masks in Salt Lake County.
In all, 55 of the 130 businesses observed were in Salt Lake County. Those spanned 15 communities with the most observations in Salt Lake City, although each community had at least two locations observed. Other areas in the county were Cottonwood Heights, Draper, Herriman, Kearns, Magna, Midvale, Murray, Riverton, Sandy, South Jordan, South Salt Lake, Taylorsville, West Jordan and West Valley City.
Of those county locations, all had more than 85% face covering usage, although it wasn't clear if that included people wearing masks properly.
The businesses within the county were 18 convenience stores, 17 grocery stores, 13 home goods stores, three hardware stores, and two sporting goods stores.
Home goods stores had the highest rate of mask usage at 98%, but only 91% were wearing coverings properly — meaning the mask covered the person's mouth and nose, according to the study's findings. Hardware stores had the highest rate of properly worn face coverings at 94%, with just 3% not wearing face coverings correctly.
The lowest face-covering usage was spotted at convenience stores with about 73% of individuals observed properly wearing masks and 84% total wearing coverings properly.
Grocery stores resulted in 90% properly-worn masks and 7% not properly wearing masks. Sporting goods stores were also at 90% properly-worn masks with 5% not properly wearing masks.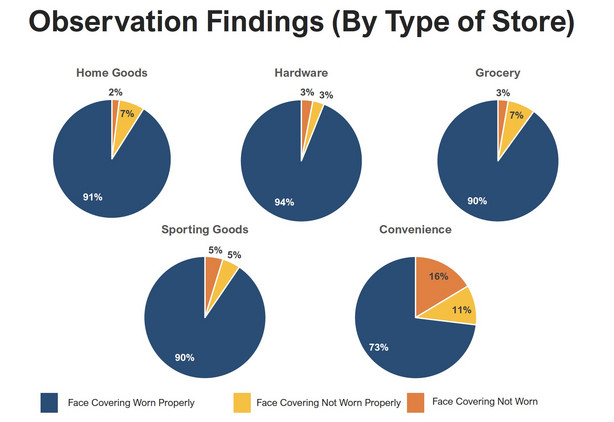 Since people were not interviewed for the study, Salt Lake County Health Department director Gary Edwards said those who compiled the research broke it down by gender and three estimated age groups: 12-44, 45-64 and 65-plus. The study estimated that nearly 60% of the people observed not wearing face coverings in Salt Lake County fell between the ages of 12 and 44, and another 33% fell between ages 45 and 64.
"It's consistent with what we thought, that the older the individuals are … the more likely they are to be complying with the mask requirement," Edwards said. "That's probably because of the understanding everyone now has that the older you are, the more likely you are to have more serious illness."
Males were slightly more likely to not wear masks. The study noted 55% of those spotted without a face covering were male compared to 45% female.
The numbers ranged within the other 75 locations across the five other studied areas, according to Edwards. The areas observed with mask mandates had facial cover-wearing percentage rates ranging from the high 80s to low 90s. The locations observed without mandates were "even as low as close to 50%."
"Certainly, the communities that have been actively promoting and — in our case, having a requirement — there is much more observation of individuals wearing masks," he said.
While encouraged by Gov. Gary Herbert and Utah's leading health experts, face coverings — especially mandates requiring them — have become a controversial topic within the COVID-19 pandemic. As such, only three counties and two Utah cities have enacted face covering requirements in public. Provo's city council voted to pass a mandate on Tuesday, as well, but Provo Mayor Michelle Kaufusi later officially vetoed it. However, on Thursday the council implemented the mandate after overriding the veto with a 6-1 vote.
Scientists reversed course on mask-wearing, especially homemade masks, in recent months. Their reversal came after research found that the coronavirus seemed to be spread mostly through droplets and that most masks prevented droplets — produced through breathing, talking or sneezing — when effectively worn.
Earlier this summer, KSL.com asked readers why they choose not to wear face coverings. Some said it was because of medical reasons, others found it to be an overreach of government power, and some felt like it wouldn't make a difference.
Salt Lake County officials, on the other hand, have touted their face covering mandate for a steady decline in cases that began shortly after the order went into effect.
For Salt Lake County Mayor Jenny Wilson, the data is what led to making aggressive public health decisions. Given the new face-covering study data at-hand, community leaders are working on solutions to see the number of COVID-19 cases drop further. That includes making sure their message is understood across the many diverse communities in the area.
Wilson believes managing COVID-19 is something that not only can help keep residents healthy and out of hospitals but can also get the county's economy back on track. It's something she said can help make the area somewhere people feel safe visiting.
"You can't get to a strong economy if you don't get COVID-19 under control," she said. "Nobody will fly in and enjoy our beautiful scenery or drive here — which we're starting to see more of now — if our cases are on fire."
More stories you may be interested in
This content was originally published here.