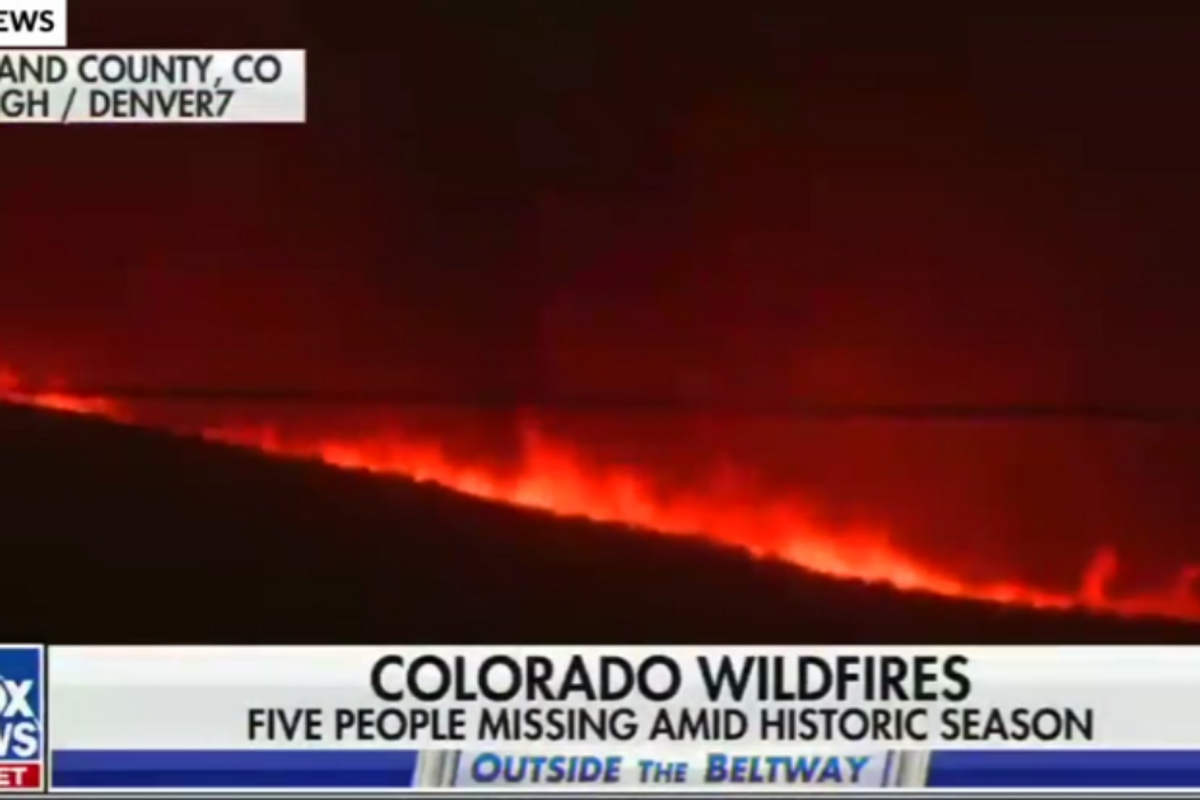 Fury spread after Fox News' latest update regarding the Colorado wildfires… though it wasn't the wildfires the crowds were upset over, but rather, the music selection.
The segment in question aired on Friday night on Fox News during a "Special Report with Bret Baier."
You can watch the segment here:
— Kyle Clark (@Kyle Clark)1603501907.0
Baier gave an update on the two fires that have been ongoing in Colorado for more than two weeks. The first fire, the "East Troublesome Fire" started back on October 14 and has spread to more than 192-thousand acres and crossed the Continental Divide.
The second fire, the "Cameron Peak Fire," is the largest fire in Colorado's history and has spread across more than 206-thousand acres.
Both fires have reached the Rocky Mountain National Park, and the two fires have forced thousands to evacuate their homes. At this time, at least 30 people are presumed dead, and the count continues to rise, as does the missing persons list.
Baier gave his update:
"The big story out there tonight, at least five people are unaccounted for in a huge wildfire burning in Grand County."

"The sheriff out there says there may be more as people call in to report their loved ones missing. The fire has grown rapidly since it started October 14th."
Baier closed his segment traditionally, stating:

"That is tonight's live look outside the Beltway from 'Special Report'. We'll be right back."
As Baier said this line, the image in the news segment switched from the raging fire in Grand County over to an urban view of Denver, Colorado.
But quite jarringly, a song was included in the end segment, too.
Quite distastefully, none other than Johnny Cash's "The Ring of Fire" began to play.
Over the image of Denver, the lyrics could be heard:
"I fell into a ring of fire. I fell into a burning ring of fire. I went down, down, down, and the flames went higher."
Viewers were surprised and appalled at the song choice.
Though the song itself is about metaphorically falling into a ring of fire (which was meant to describe love), the timing was tone-deaf in light of the damages, deaths, and missing persons Colorado currently has to endure.
When Colorado journalist Kyle Clark pointed out the jarring juxtaposition on Twitter, fellow Twitter users did not let it go quietly.
@suezq801 @KyleClark Oh my god, seriously??

— Jamie Snyder 🍕 (@Jamie Snyder 🍕)1603502241.0
@KyleClark Hey @FoxNews , this is below your already low standards. People are dying, homes being lost, a Nationa… https://t.co/Siwbjya2v8

— PappyFitz (@PappyFitz)1603502926.0
@KyleClark Wow, I feel like the music at the end was so very insensitive and extremely inappropriate. There are at… https://t.co/i7qltoI5Lv

— Angela Maxwell (@Angela Maxwell)1603510428.0
@KyleClark OMFG. This is SICK. Seriously FULL STOP. I'm outside the Beltway & a couple years from a long term res… https://t.co/Icp4I0tgJ9

— RA Sullivan (@RA Sullivan)1603502469.0
@KyleClark Why in the world did you guys play "Ring of Fire" by Johnny Cash as the closer. This is a deadly fire th… https://t.co/7UkUBCKsrx

— Tami (People Over Money) Matthews (@Tami (People Over Money) Matthews)1603517175.0
@ahug422 @KyleClark @emurhay 2 people have died, and more are missing. Completely asinine of @FoxNews and insensiti… https://t.co/rzT7fajZ64

— Buh Bye Trump! Vote Blue 🗽🌊🗽 (@Buh Bye Trump! Vote Blue 🗽🌊🗽)1603515275.0
@KyleClark Tactless and tasteless. But what else can you expect from Fox News. Just when you think you should have… https://t.co/7iuiptYpow

— marked4words (@marked4words)1603503211.0
@KyleClark Wow talk about people dying then playing that song? Heartless!

— NoCoWolf (@NoCoWolf)1603502116.0
@KyleClark It needs to be said –
it's ridiculous, insensitive, stupid – just when you think @FoxNews couldn't get a… https://t.co/LeD6VYdIKY

— MERCURY WAVE PORTAL (@MERCURY WAVE PORTAL)1603522805.0
@KyleClark Wow. I'm actually shocked. It's so awesome that a media station is making fun of a wildfire.

— Jennifer Stark ⛈🌪🌩🌦 (@Jennifer Stark ⛈🌪🌩🌦)1603502467.0
@KyleClark Only two kinds of class: first class and no class.

— Sam (((handsome and profane))) (@Sam (((handsome and profane))))1603546181.0
Though Johnny Cash may have been singing about falling in love, any mention of a ring of fire during these terrible ongoing wildfires is nothing short of distasteful.
We'd recommend not using songs that emphasize the weather or the four physical elements for any future natural occurrences.
This content was originally published here.