SALT LAKE CITY — Prompted by a flurry of requests to Vice President Mike Pence by a group of Western congressional representatives, the U.S. Department of Justice launched an investigation into the recent acquisition of a Colorado lamb processing plant — a transaction that threatens to put a stranglehold on producers in Utah and 14 other states.
Mountain States-Rosen's plant was acquired in late July in a bankruptcy auction by Brazilian owned JBS USA, which announced its intentions to ultimately transform the facility into a high-end, beef-only processing plant.
The alarm over the change in ownership was raised by Sanpete County sheep rancher Carson Jorgensen, who pleaded with the Trump administration to intervene because the plant processes over 300,000 lambs from 15 states. While there are other facilities, such as one located in Denver, most of them are operating at capacity.
Jorgensen said the move to shutter lamb operations by JBS would strand this year's crop waiting in feedlots and other animals readying to come off summer ranges.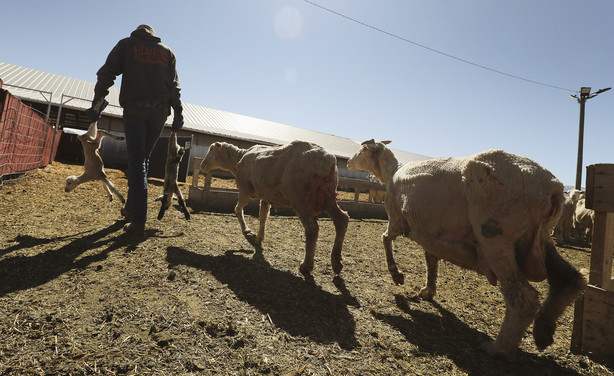 Sen. Mike Lee, R-Utah, who was at the forefront of backing Jorgensen's request for intervention, said the DOJ probe is necessary.
"American consumers and ranchers are already suffering from a bottleneck in meat processing facilities," he said in a statement. "The closing of Mountain-States Rosen can only make the situation worse which is why it is so important for the DOJ to make sure this merger is lawful."
In response to the concerns raised, JBS spokesman Cameron Bruitt said the company intends to cooperate with the decision to push pause on the operations.
"We officially acquired the facility last week. Given recent interest in the transaction, we agreed to not make any material changes to the facility for 30 days as a sign of good faith. During that time, the Department of Justice will have the opportunity to review any concerns raised. We welcome their review," he said.
Bruitt said the company has also tried to alleviate lamb producers' concerns, but has been rebuffed.
"Last week, we also offered to lease back the facility to the former owners for 90 days to ensure continuity for local producers, but they respectfully declined. This was our fourth offer to continue operating the facility as a lamb plant on behalf of producers."
Efforts to get comments from Mountain States-Rosen officials were unsuccessful.
More stories you may be interested in
This content was originally published here.