The CEO of James Irwin Charter Schools sent an apology letter to families and staff Thursday after a high school English teacher posted an assignment titled "N-Word Journal" on the school's Google Classroom website asking students to ponder a racial slur used against African-Americans.
The assignment was live on the website for around 3 hours April 12, Rob Daugherty the school's CEO said. 
The post instructed students to think and write about the racial slur as part of a lesson for the book "Their Eyes Were Watching God," according to copies of the assignment posted on social media.
"Is it hard to talk about the N-word in an academic setting? Why or why not?" The assignment asked.
"Why is this topic relevant to the novel, Their Eyes Were Watching God?" Has its use in the novel bothered you? Why or Why not?"
Students and parents expressed concerns to the school's administration over the assignment, Daugherty said.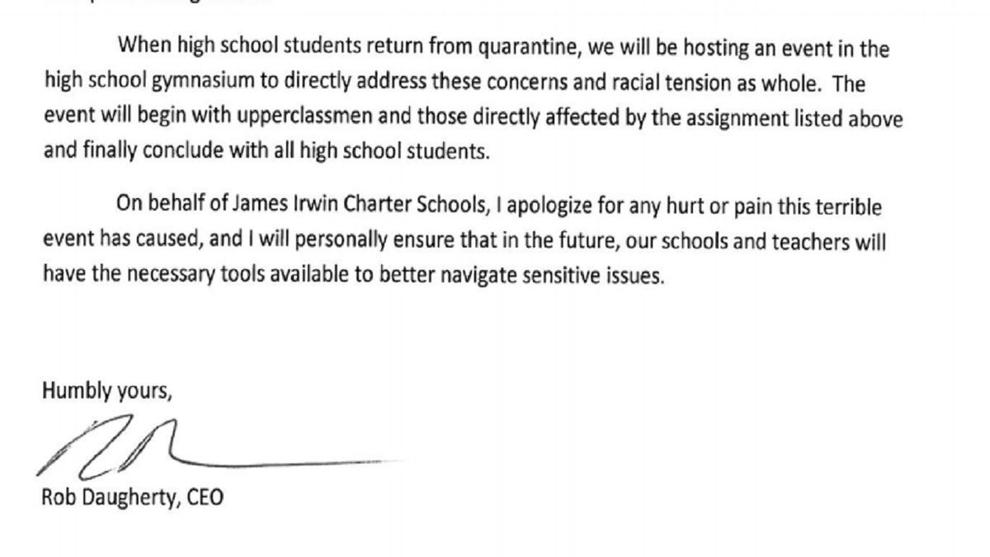 "I'm not shocked about this situation," Monique Raquel, a 2017 graduate from the school said. "The school's culture is not where it needs to be for the children."
Daugherty pulled the assignment offline and sent a letter to the school's community apologizing for it.
"The assignment was well intentioned," Daugherty said. "It was just the wrong way to get to the intended result."
Daugherty said the teacher was trying to provide context to the reading material students were studying in class. The 1937 novel centers on life in Florida for African-Americans amid the lingering impacts of slavery.
Future assignments created by the teacher will be "vetted" before they are posted, Daugherty said.
Typically teacher's curriculum sticks to a uniform outline, Daugherty said.
"We have a very clear and concise scope and sequence," Daugherty said. "In fact, large majority of the work that we do is actually scripted."
But Daugherty said much of the school's teaching style was interrupted by COVID-19.
The school will hold an event April 22 to discuss "racial and social tensions in our nation," Daugherty wrote in the apology letter. The event will host several speakers and will start with an in-person apology to the school's upperclassmen who were given the assignment, Daugherty said.
"This will kind of be a springboard for us to take a bigger look at, you know, what's going on in our school in our country because, of course, schools are a microcosm of what we see in greater society," Daugherty said.
This content was originally published here.