A lawsuit accuses Republican Colorado Representative Doug Lamborn of allowing his son to live in a storage area in the basement of the U.S. Capitol for weeks when the son relocated to Washington, D.C. for work. The lawsuit also accuses Lamborn of repeatedly exposing his staff to COVID-19.
The suit's filer and plaintiff, Brandon Pope, Lamborn's former defense and business advisor in his Colorado Springs district office, accuses Lamborn of having a "recklessly self-serving approach to his position as a Member of Congress."
In addition to allegedly allowing his son to live in the Capitol basement, Pope said that Lamborn required staff members to help his family with non-work-related tasks. These tasks included helping his son apply to jobs, helping his wife set up a webcam to chat with family members and helping move furniture to Lamborn's vacation home.
Staff members were also allegedly pressured into accepting invitations to family events and providing birthday and Christmas gifts to Lamborn and his wife under threat of firing, the lawsuit alleges.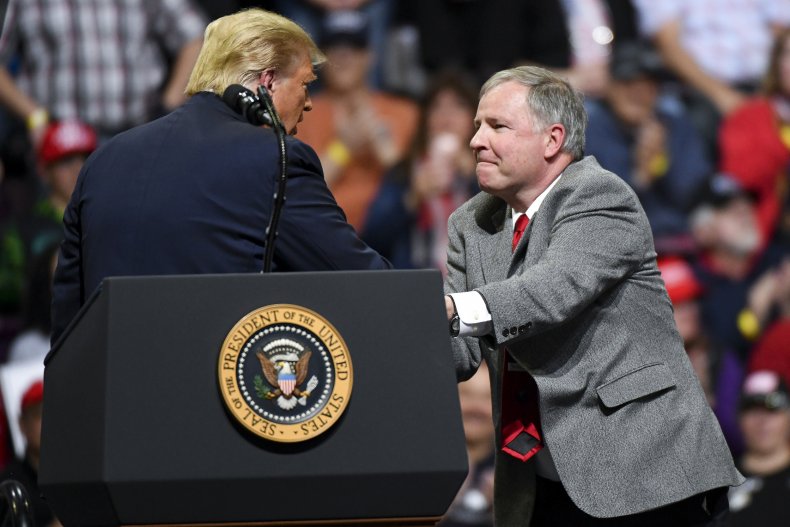 Pope further alleges that Lamborn fired him in retaliation for pointing out that Lamborn's lack of preventative measures caused multiple staffers to contract COVID-19.
Pope said that Lamborn's office failed to use face masks or social distancing in his district and Washington D.C. offices, even after Lamborn and other senior members of his staff contracted COVID-19. Lamborn allegedly refused to inform his other staff members if they had been in close proximity with infected individuals.
Pope said he repeatedly suggested the implementation of COVID-19 related safety protocols throughout the pandemic. Lamborn and his chief of staff, Dale Anderson, reportedly disregarded his suggestions. Lamborn allegedly required his staff members to continue meeting with constituents indoors with no mask requirements. Lamborn also allegedly refused to let his employees work from home, even if they or their spouses were immunocompromised.
"Representative Lamborn and Mrs. Lamborn both claimed that COVID was a hoax and asserted that the pandemic was being used to alter the course of the congressional and presidential elections," the lawsuit states. The lawsuit also alleges that Lamborn said that he didn't care if his other employees got infected. His wife allegedly refused to wear a mask because "no one was going to tell [her] what to do."
When Lamborn's deputy chief of staff tested positive for COVID-19, Pope said, Lamborn continued to work closely with his staff even though he and the deputy had been in close proximity to one another. Lamborn also lied to the Office of the Attending Physician, the Capitol doctor, about his and his workers' possible COVID-19 exposure, the lawsuit alleges.
Anderson and Lamborn's wife allegedly "belittled" any staffer who raised pandemic concerns. Pope said that Anderson personally shouted him down during discussions about his concerns. Anderson shamed a concerned female worker, calling her "dramatic" and insulting her behind her back, Pope said. The worker stopped raising her concerns as a result, Pope continued.
Pope said that Anderson began to demean his work because Pope continued to raise concerns about coronavirus. Anderson accused him of being "belligerent", "abrasive", of having a "lack of professionalism" and "an attitude problem" as a result, the lawsuit states. Pope was fired on December 7, 2020.
As such, Pope said that Lamborn violated section 5 of the 1970 Occupational Safety and Health Act. The act requires employers to provide a safe workplace and to follow standards that reduce hazards to employees' health.
Pope also said that his firing violated the Congressional Accountability Act. The act makes it unlawful to fire employees who speak out against employers who don't follow laws. Pope is seeking a trial by jury.
Newsweek contacted Lamborn's office for comment.
This content was originally published here.