The Colorado General Assembly became heated as it erupted during a legislative session after state Representative Richard Holtorf referred to a colleague as "Buckwheat," which caused the House to enter into a temporary recess on Wednesday.
Video footage shows that the Republican representative was introducing an amendment he proposed to House Bill 1285 when he was interrupted by a colleague not seen on camera, prompting him to refer to him as "Buckwheat," Colorado Sun reporter Thy Anh Vo described on Twitter.
"I'm getting there, don't worry, Buckwheat, I'm getting there," Holtorf said, who proceeded to continue speaking and added, "that's an endearing term by the way."
Colorado State Rep Richard Holtorf (R-Akron) referred to a colleague as "Buckwheat," leading to a heated exchange and brief recess of the House. #coleg #copolitics #9News pic.twitter.com/jYXNbEMg8q
— Kyle Clark (@KyleClark)
It was not clear to whom Holtorf referred when he said, "Buckwheat"
Holtorf's comments were immediately met with the sounds of Democratic House Speaker pro tempore Adrienne Benavidez's hammer who cut him off from continuing.
"Representative Holtorf, we must maintain order in here," she said, adding that individuals should not be referred to in any "inappropriate manner."
"Please do not do that any further," she said.
Holtorf was then challenged by Democratic Representative Tom Sullivan, according to journalist Kyle Clark from 9News.
"Why are you yelling at me?" Holtorf can be heard repeatedly shouting toward Sullivan while Benavidez became frustrated and kept trying to interject.
Benavidez called for a house recess and Democratic Representative Leslie Herod stepped in to calm the situation, Vo said.
The audio of the heated moments eventually shut off when Holtorf's colleagues were seen stepping toward him in an apparent attempt to get him to stand down with one colleague grabbing his arm.
After the recess, Holtorf cast blame on all of his colleagues' behavior before taking responsibility for his actions, Clark detailed on Twitter.
"I think we all need to consider what we do here and how we talk to each other," Holtorf said. "We all have to do better. I will start with me."
"I apologize if I offended anyone in any way. It is not my intent," he added. "If anyone would like to talk with me afterwards, I'd be more than happy to visit with them."
In February, Holtorf previously told Sullivan to let go of the death of his son during a House session, according to KDVR. His son Alex Sullivan died in the Aurora, Colorado, theater shooting in 2012.
Sullivan mentioned how it was the 448th Friday since his son was fatally shot in the Aurora theater and discussed Colorado's "red flag" law.
"I'm here to remind you daily what gun violence looks like," Sullivan said. "Whether you listen or not, I will continue to come to this microphone and tell you about its impact."
Afterward, Holtorf said, "Let me tell you, the most important lesson I learned, and I offer this to my fellow colleagues, particularly the one that just spoke, is that you have to let go."
Newsweek has reached out to Holtorf for comment but did not hear back in time for publication.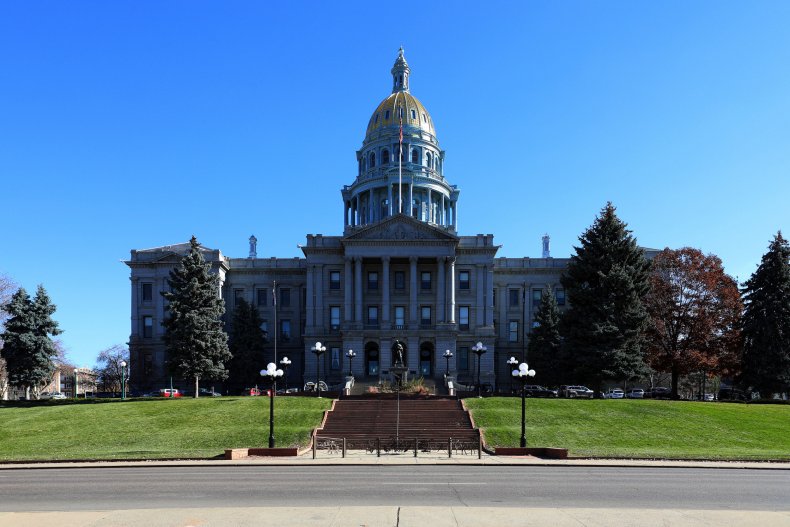 This content was originally published here.