Over the last year, racist assaults on people of Asian descent have often taken the form of epithets hurled related to the COVID-19 pandemic:
"Go back to China!"
"You brought the flu!"
"I'm out of work because of you!"
Other times, the attacks have crossed into physical assault.
Around the Denver metro area, those incidents have included bleach poured on a Vietnamese woman's laundry at a laundromat. Someone shouted an epithet and spit on a Korean adoptee at a supermarket. A woman was sprayed with disinfectant while stopped at a red light with her car windows down.
As threatening as they are and as often as they occur, these attacks against people of Asian descent most often do not show up in hate crime statistics kept by official sources. The contrast between statistics from law enforcement and anecdotes about people's lived experiences suggest most are not reported, which has also made it difficult to measure the true extent of racist attacks against Asian American and Pacific Islander (AAPI) people. Denver police, in fact, have recorded just four such hate incidents in the past seven years. Aurora has documented two since 2020, according to Police Chief Vanessa Wilson.
A report by Stop AAPI Hate documented 3,795 hate incidents against AAPI people nationwide between March 19, 2020, and Feb. 28, with 44 in Colorado. The report says they represent only a fraction of incidents that actually occur.
Verbal harassment and deliberate avoidance of AAPI people were the most common types of targeted incidents documented, according to the report.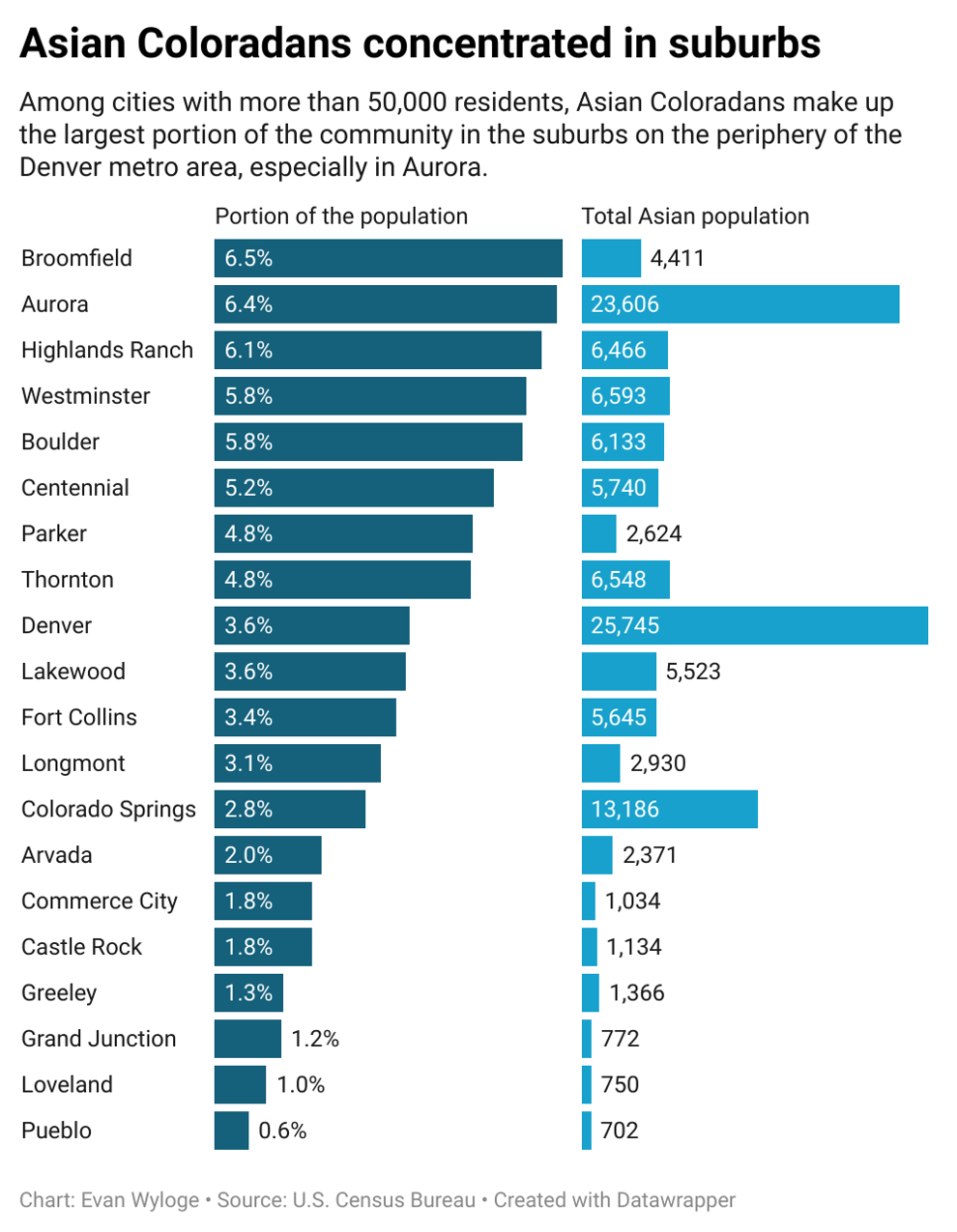 "Because that's not a crime, law enforcement can't get involved," said Gil Asakawa, an AAPI community activist and journalist, of these types of hate incidents. "But law enforcement really want to know even if people are just getting harassed, because a lot of times the verbal harassment can escalate to violence."  
The absence of reporting has both legal and cultural roots, and conversations with Denver and Aurora's police chiefs suggested they understand law enforcement has the onus of building trust with AAPI communities to help increase reporting of hate incidents.
Neither activists nor law enforcement in the Denver metro area are waiting for official statistics to catch up to recognizing hate crimes and incidents against AAPI people, which have spiked in the last year.
"We've faced a lot of adversity as Asian Americans, and this rise in hate crimes is just another log on the fire. It's time to put that fire out and accept us as Americans," Asakawa said. He is also a member of the Colorado's Asian Response Committee, formed last year to address anti-Asian activity following COVID-19.
Targeted attacks against AAPI people — which have seen particular periods of spikes throughout the history of the U.S., such as during World War II — have grown in the last year because of characterizations of the novel coronavirus's geographic origins, according to activists and police. A shooting attack in March on three Atlanta area Asian-owned spas that killed six women of Asian descent left AAPI communities around the U.S. raw and grieving.
The discrepancy between official hate crime statistics and firsthand accounts of incidents AAPI people have lived and witnessed highlights the inadequacy of current data on hate crimes.
Even Denver's top cop has felt the sting of anti-Asian bias. Police Chief Paul Pazen said his wife and mother-in-law, who are Asian, now fear going out unaccompanied.
"It's real, and I get it," Pazen said. "Same with other communities — we've just got to do more to break down this hatred that seems to be too prevalent."
The Letter of the Law
Denver and Aurora's police chiefs acknowledge frustration that many hate-based incidents end up falling into a legal gray area that make them difficult to charge as hate crimes.
Colorado's hate crime law covers physical violence and damage to property targeted based on a person's actual or perceived race, color, religion, ancestry, national origin, disability or sexual orientation. The law also covers verbal threats and conduct that "knowingly place another person in fear" of harm to them or their property and the conduct is likely to cause such harm.
"The law is very specific, it has to be a direct threat. And often people will play games, and they will use these veiled threats, and you and I know exactly what it means," Pazen said.
"We need it to be very specific, very direct, and be able to draw that direct line to the bias itself. So, that can be frustrating for us — more so for victims — but we understand, and we try to overcome those challenge as best we can. But it's part and parcel, for sure, of the whole issue."
Colorado Attorney General Phil Weiser has advocated vocally for more accurate tracking of hate crimes. On Tuesday he joined a group of three dozen attorneys general supporting the National Opposition to Hate, Assaults, and Threats to Equality Act (NO HATE), which would provide federal grant funding for training employees of state and local governments and law enforcement agencies on identifying, classifying and reporting hate crimes in the FBI's national database. According to a news release from Weiser's office, funding would also go to state development of programs for preventing hate crimes, increasing community education about hate crimes and creating state-run hate crime hotlines.
The release says most law enforcement agencies did not participate or reported zero hate incidents as part of the process of voluntarily submitting hate crimes data to the FBI, according to the FBI's 2019 report.
Howard Chou, the first vice chair of Colorado's Democratic Party, said a statewide tracking system like one proposed in California's AB 557, which would require the creation of a statewide hotline and reporting system for hate crimes, would help boost the accuracy of data collection.
To Johnnie Nguyen, an activist, law student at the University of Colorado and member of the American Bar Association's Board of Governors, statistics on hate crimes have usefulness in policy conversations. But he said in social conversations, relying on data shouldn't replace believing people's lived experiences.
"Yes, the data has been helpful, and it is essential as we pass policy, but it shouldn't be required to believe that this has been happening for years now," Nguyen said.
Building long-term trust
Sources who spoke with the The Gazette said AAPI people, especially those who have immigrated to the U.S., often have a culturally based hesitancy to work with law enforcement stemming from roots in countries with corrupt government.
Nguyen said wariness that Asian people have in reporting incidents to law enforcement often comes from their roots in countries, where blackmail by law enforcement and expectations of bribery of police for safety are common.
Asian people also tend to fear retaliation within their communities for reporting crimes, he added, recalling a time when a few of his relatives in the U.S. witnessed a burglary but asked Nguyen not to call police for fear they would "out" Nguyen as the one who reported the incident.
"This is a very common phenomenon in Asian communities that has carried on to the U.S., and it just speaks to more of why we need to build more trust with police in the community," he said.
Ping Qiu, a teaching assistant professor of Chinese at the University of Denver, said the stigma of reporting instilled by living under corrupt governments tends to last even on families who have lived in the U.S. for decades.
"It usually happens within the newly immigrated communities, but it also has a long-lasting effect on families who have been in the United States for several generations," Qiu said. "That fear and distrust just does not go away."
The Denver Office of Immigrant & Refugee Affairs and Denver Police Department offer My City Academy, a program that educates newcomers about aspects of navigating city government, such as contacting elected officials and what to expect from interactions with police officers.
"It's all of the lessons learned there that you and I might take for granted," Pazen said.
Nguyen said increasing diversity of police forces is a key step in law enforcement building trust with AAPI communities. He said an officer in the Denver Police Department who is also a Catholic chaplain, Joseph Dang, has done a lot of work to translate police reports, news and even information about COVID-19 vaccinations for the Vietnamese community "wearing a police uniform, while also being the face of Vietnamese people."
"This builds trust over time to know that there's people who look like us in law enforcement, which is so crucial, because in order for a lot of our issues to be understood, we need our people there in law enforcement," Nguyen said. "Trust is not something that we can just flip a switch on. I think it's something that develops over time (as) with all relationships between people."
Chou echoed Nguyen's sentiment that building trust takes time. He said law enforcement making clear that they condemn any kind of hate crime and that they want people to feel safe reporting to them is an important first step.
He said additional steps include officers taking part in cultural gatherings of people of color so they can learn about those communities, which would illustrate their commitment to serving and protecting.
"The way you serve and protect is that you have to be part of the community," Chou said. "And so when we have gatherings, especially among communities of color, ethnic and cultural gatherings, go there to support and learn about the people that you're there for."
Aurora Police Chief Vanessa Wilson said she and other APD officers have been meeting with Asian businesses owners  recently to find out how they're feeling about their safety, and to let them know the police are there for them. She said the goal of this type of police visibility is to "just try to put people at ease that we're there, as well as that we're approachable."
Fran Campbell, president of the Asian Chamber of Commerce, said in the Denver metro area, anti-Asian bias led to a 30-40% drop in business for Asian-owned restaurants and businesses even before quarantine orders began.
In addition to COVID-19 losses, she said, Asian-owned businesses have had to repair damage from graffiti and other vandalism. She also knows numerous Asian-owned businesses in Denver that have begun to provide safety training for their employees to keep them safe from racist attacks, another added expense.
"The businesses that tell us these things don't want any kind of notoriety or publicity over this," Campbell said. "They're worried about further violence against them and that it's going to continue and exaggerate the loss of business."
Denver resident Daniel Choi says now is a time to focus on every group victimized by hate crimes, not only AAPI communities.
"I always wanted to see my parents stand up for themselves, but they never had the time to do so, because they were working 12-plus hours a day," Choi said. "But now it's our time, and it's not just on the Asian community, but all people of color. We've all experienced some sort of discrimination or racism in our lives, so it doesn't matter if you're Asian, Black, Hispanic or whatever — if you don't want to live in a society that judges people by the color of their skin, we all need to come together."
This content was originally published here.