Colorado governor Jared Polis has voiced concerns about a "somewhat erratic" supply of COVID vaccines from the federal government, as state officials probe a new strain of the novel coronavirus that is believed to transmit faster.
Gov. Polis addressed the rollout issues on Saturday during an interview on Fox News, in which the host, Neil Cavuto, questioned why roughly 2.8 million doses of the medication had been administered in the U.S. despite 12 million reportedly being distributed.
The governor said Colorado enacted a "firm hand" approach to ensure that doses could be administered as quickly as possible, noting state hospitals and clinics were told they needed to use every dose given within 72 hours or they would be reassigned.
But he flagged another possible problem as contributing to logjams in the distribution process: inconsistent quantities of the vaccines being received weekly.
"The other issue is a somewhat erratic weekly supply from the federal government and it's hard to book patents and know how many we are giving when the quantities change. They are not like doubling or going in half, but when you get 'oh its 30 percent less' well we have to cancel those appointments, or roll them into next week," he said.
Despite the concern, Gov. Polis told Cavuto he remained "hopeful" for a more reliable weekly vaccine supply from the government in the coming days and weeks.
A spokesperson for Operation Warp Speed, the federal government's division currently overseeing the distribution, previously said Centers for Disease Control and Prevention (CDC) data suggesting slow administration was possibly due to reporting delays.
According to the CDC, as of January 2 there have been 13,071,925 vaccines distributed in the U.S., with 4,225,756 people having been administered at least one dose.
In Colorado, citizens over the age of 70 are now being prioritized for the initial batches of the vaccines and it is expected to take between four and five weeks at current supply levels for everyone in that category to receive the vaccine, Gov. Polis said.
Broadly, there are still between two and three thousand people testing positive for the disease in the state every day. Health officials warned last week that a new variant of the disease believed to have first emerged in the U.K. was possibly in circulation.
It was confirmed on December 29 that a man in his 20s who had no travel history had contracted the disease, suggesting that it was contracted from inside the state. Polis said it was "most likely" brought in from the U.K. via business and travel links.
He told the Fox host: "I don't think scientists will know for some time but it's unlikely, I'm told, that an identical strain would mutate twice [in] the same way."
The variant has also been found in Florida and California. In Colorado, Gov. Polis assured that two tentative cases had been found in his state, and it was not the dominant strain.
Dr. , director of the National Institute of Allergy and Infectious Diseases, previously said it was "disappointing" the U.S. had seemingly failed to meet a plan to administer 20 million people with the first vaccine doses before 2020's end.
"We would've liked to have seen it run smoothly and have 20 million doses into people today, by the end of… 2020, which was the projection. Obviously, it didn't happen and that's disappointing," Fauci said on the Today show last week, CNBC reported.
The top U.S. scientist added: "Hopefully, as you get into the first couple of weeks in January, the gaining of momentum will get us to the point where we want to be."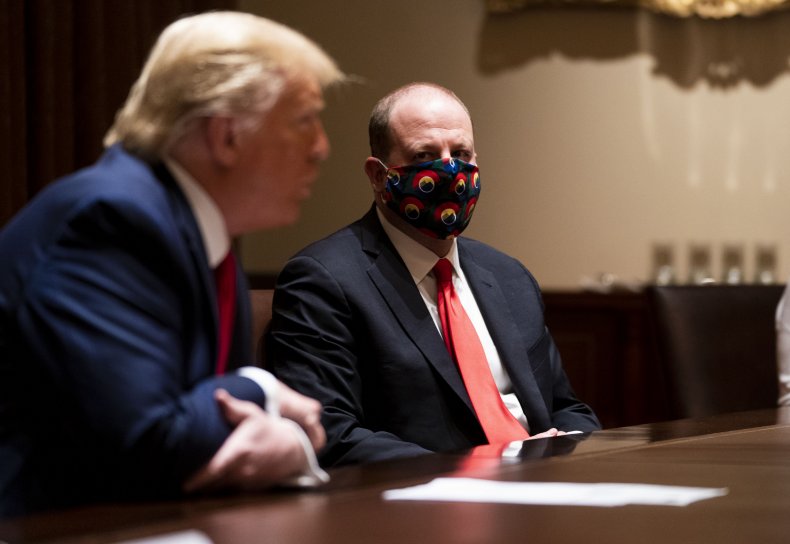 This content was originally published here.