FOR IMMEDIATE RELEASE: LAS VEGAS, NV (September 12, 2021): The 2021 All Terrain Concepts UTV Legends Championship concluded this past weekend in glorious fashion. Over 200 UTVs, Motorcycles, and Quads showed up to test their skills on the semi-short, super-tough 17-mile desert course set up near downtown Laughlin, Nevada along the scenic Colorado River. 
Despite hot days with temperatures over 115 degrees, racers, fans, and staff had a great time watching the best in the industry go head to head for double points to go toward the coveted season-long Best In The Desert Series Class Championship. Since the event was filmed for an upcoming episode of the 2021 Best In The Desert Series on MAVTV there was an added air of urgency to race hard to get valuable exposure for sponsors.
Action kicked off Thursday afternoon with Time Trials for the UTV Turbo Pro and UTV Pro Open Class. Red Bull's Mitch Guthrie let everybody know he was ready to race with the fast time of 3:24:828 followed by Bruce Binnquist, Ryan Piplic, and Dustin Jones. Top Pro Open was Mitch Alsup, finishing in ninth place overall.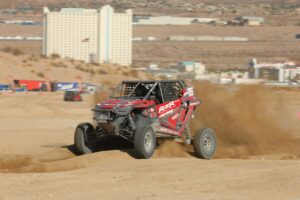 Racing got started Friday afternoon with nearly 50 young racers competing in the 4 Wheel Parts Youth UTV Series races. In Race 1 it was Chase Mankin taking home the UTV Y 250 Modified class win over Kendall Hawks in 41:33:209. The kids put on quite the show!
Finishing second overall and first in the UTV Y 170 Modified class was Jacob Williamson in 42:53:654 followed by Wyatt Cotter and Landon Morrow. Top in the UTV Y 170 stock class was Cameron Leaming followed by Dexter Warren just seven seconds back. Race 2 for the UTV Youth Classes was equally competitive with Travis Sallee taking home the overall and UTV Y 570 Stock class win in 39:38:111. Travis was followed by Ryder Chapman and Jaxon Leaming in second and third place, respectively. Just two minutes separated the first three racers making for a tight and exciting spectacle. The UTV Y 1000/R Class, the final race of the day, was won by Kendall Hawks in 38:58:982 with Paxton Schendel and Travis Sallee rounding out the podium.  
Racing on Saturday got started very early at 6:30 a.m. and was fast, furious, hot, and dusty. Race 1 featured the motorcycle and quads and was a barn burner of a race with Jeff Trulove and Jeremy Newton on the N3 taking the Open Pro M/C Class followed by perennial favorites, N1 team Hayden Hintz and Trevor Hunter.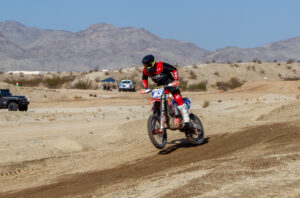 The race for the series Open Pro Championship has come down to these two teams. Hayden Hintz/Trevor Hunter led for the first two laps before encountering fuel pump issues, letting both the P7 Danny Cooper/Justin Wallis Over 30 Pro Team sneak by to briefly lead. In the end, the Trulove/Newton team ran a flawless race covering the 170 miles in 2:55:14 winning by 2:22 seconds over P7 Cooper/Wallis Over 30 Pro to take the overall win. 
Hintz/Hunter came back to salvage third place overall and second in the Open Pro Class ensuring the points race for the Open Pro Motorcycle Series Championship will go down to the final race, the Bluewater Desert Challenge in Parker, Arizona on Nov. 4 -7, 2021
Other class winners include the 399 Pro Class team of Taylor Stevens/Wyatt Brittner, Ironman Pro Class winner Jarret Curley, who finished a remarkable sixth place overall, as well as Quad Pro champs Josh Row and Robby Brockman who came in an impressive seventh overall out of all entries. The Open Expert Class was won by Eric Holt/Damon Bush/Tyler Harvey who seem to have a lock on this class. The Over 50 Expert team was won by Paul Palmer/Scott Stearns/Darren Elliot, while Travis Dillon took the Ironman Expert Class in 3:11:44. The Women's Class was a battle between the #W1 Kimberly Loppnow/Gina Alvarez team and the #W15 Ashlee Gage/Kari Erickson/Rebecca Stout team. In the end, Loppnow and Alvarez took home the win in 3:14:07. To round out the excitement, #420 Patti Blais soloed the "Black Betty" Honda quad to win the Quad Expert Class in 03:06:43, quite an accomplishment given the extreme heat and rugged nature of the course.
Race 2 would feature the ultra-competitive UTV Rally Class, UTV Pure Stock, and UTV Sportsman classes. They would go six laps around the 17-mile course, getting rougher by the minute. In the end, #U987 Mikey Kelly came home with the overall and Rally Class win in 1:50:52. Coming home second place, in yet another impressive race finish was the young Jack Olliges-led team which included Mike Bollig and Dustin Orth. The final step on the podium would be occupied by UFC Legend Donald Cerrone who came home third in the Rally Class. The "Cowboy" has been steadily improving, each race quickly becoming a threat for the overall win in his first full season of racing. The UTV Pure Stock Class was won by Ryan and Aaron Edwards in 1:58:38 with the Daniel Cook-led U918 team taking second place. Honda-mounted Jamie Campbell rounded out the top three in Pure Stock. The UTV Sportsman Class was won by the #S944 team of David Payne/Ryan Morrison/Clayton Winiecki in 1:59:41 which was good enough for fifth overall out of all entries.
As the action heated up, so did the temperatures with the afternoon races running in 118 degrees, creating a real challenge for man and machine. Race 3 got underway almost exactly on time and featured the UTV Unlimited, UTV Pro NA, and UTV RS1 NA Classes, and they did not disappoint. Defending BITD UTV Unlimited Series Champion Michael Isom came out on top of a dogfight for the Unlimited Class win just ahead of Michael McFayden and Chris Blais with barely one minute separating the top three in class. 
This class is completely up for grabs for the final round of the 2021 BITD series at the Bluewater Desert Challenge. In Pro NA competition, Kawasaki's Carson Wernimont, and Reid Nordin proved once again why they are the cream of the crop in Pro NA competition taking home the class win over Jimmy Rodriguez and Richard Sain in a time of 2:30:24. First in the RS1 NA class and first overall in Race 3, went to Brayden Baker in a time of 2:27:32. Brayden was on the gas all day finishing over seven minutes ahead of second place RS1 NA finisher Johnathan Mcvay and three minutes up on Isom in second overall position.
The final race of the day proved to be more than worth the wait. A talent-laden field of the fastest UTV Turbo Pro racers in the world lined up to claim bragging rights as UTV Legends Champion. Mitch Guthrie pulled the hole shot and led for the first four laps, but it didn't come easy. Ryan Piplic, Dustin Jones, and a host of other Turbo Production racers were pressuring Mitch like a freight train. The Brett/Christian Sourapas team got caught up in a first-turn pile-up and had to work from a pretty big deficit, playing catch up all day. As the race entered the final laps, Guthrie unfortunately blew a shock causing him to fall back. From there, Ryan Piplic took over the lead with a very determined Dustin Jones hanging on to his tailpipe. This would go down to the final two laps until Jones lost his power steering, giving Piplic just enough of a cushion to sail home with the win. Sourapas, meanwhile, put in an impressive charge to come back to take third overall. 
Piplic's winning time for eight laps around the super-tough Legends course was 2:19:35, followed by Jones in 2:20:21, and Sourapas in 2:21:42. Bruce Binnquist put in a great race as well, coming home fourth in 2:22:40. Fifth place overall and first in the Open Pro UTV division went to Mitch Alsup finishing in 2:25:50.
The weekend racing activities finished up with Sunday's Short Course races which were won by Brayden Baker in a time of 46:18:928. Braden took home the UTV Production 1000 Class and the overall with Jeremiah Wagner taking the win in UTV Production Turbo and finishing second overall. "Cowboy" Donald Cerrone put in another great race taking second place in UTV Production Turbo and third overall, just three minutes off the overall winning time. The UTV Production 900 Class was won by Ryan Prosser.
"We couldn't have asked for better racing at the All Terrain Concepts UTV Legends Championship," said Best In The Desert CMO Bryan Folks. "Despite the extreme weather conditions, our racers proved why they are the best at what they do. We had minimum crashes and tip-overs which speaks to the professionalism of our racers and once again, we had a huge turnout for yet another Best In The Desert event. Things couldn't be setting up any better with a number of super-tight races for the Best In The Desert Series and Maxxis Triple Crown Championships for the final round for UTVs, Motorcycles, and Quads at the Bluewater Desert Challenge."
"What a great weekend of racing," commented Best In The Desert Race Director Jeff Phillips. "Things could not have gone smoother from an operations perspective. All our events ran on time, we had no major incidents or problems, and most important of all, everyone seemed to have a really good time. Especially our youth racers who put on an amazing display of skill and sportsmanship. We look forward to coming back to Laughlin in just two weeks for the King Shocks Laughlin Desert Classic. Hopefully we got some of the super high temperatures out of the way. I just want to thank all my staff and the volunteers at Best In The Desert for working through such tough conditions. They are the true champions of off-road racing."
Unofficial results for the All Terrain Concepts UTV Legends Championship can be found .
The next race in the 2021 Best In The Desert Series takes place again in Laughlin in just two weeks, Sept. 23-26, 2021. The King Shocks Laughlin Desert Challenge is open to cars and trucks and will also be a double-points event. Drawing for start position takes place on Wednesday Sept. 15, 2021 and registration is open until Sept. 19, 2021. More information can be found . 
###
The post All Terrain Concepts UTV Legends Championship Heats Up the Desert | Double-Points Event Leads to Epic Weekend of Racing at the Colorado River appeared first on Best In The Desert.
This content was originally published here.