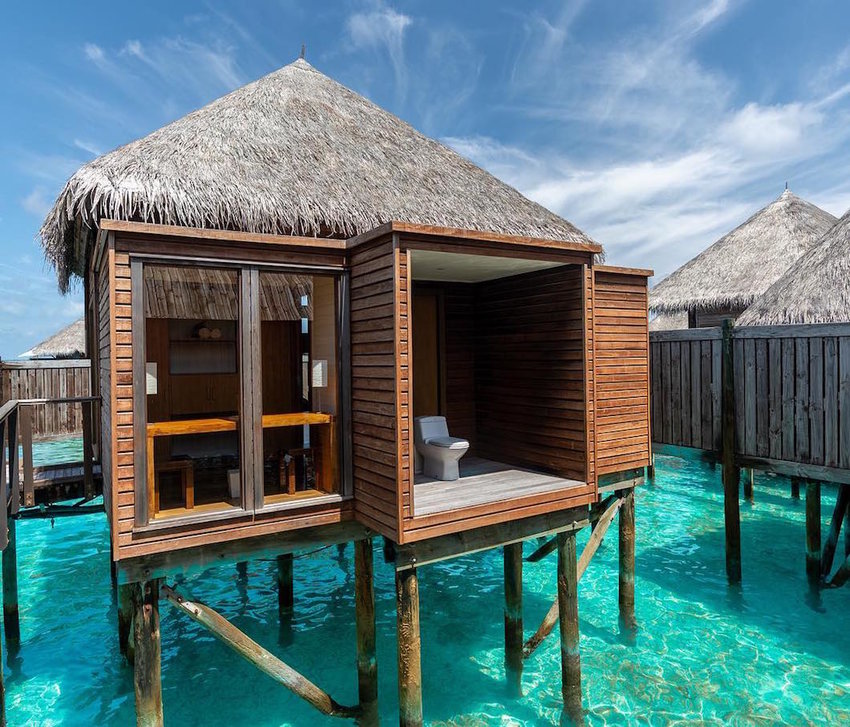 Bathrooms, whether public or private, are lifesavers when nature calls. While for the most part we look at them as simple conveniences to go about our business, there are bathrooms that have become tourist attractions in their own right. From johns with mountain views to underwater toilets and elaborate works of art, these are some of the coolest bathrooms in the world.  
Aurland Lookout, Norway
With spectacular views over Aurlandsfjord and snow-capped mountains, Stegastein Viewpoint (aka Aurland Lookout) affords some of the best scenery in Norway. Now imagine going about your business while enjoying this picturesque natural landscape through large windows. Architects cleverly positioned this minimalist toilet building at the edge of a cliff so that visitors can see out without being disturbed by others looking in. It's also framed by tall trees, meaning that you are protected from the ogling eyes of those stood on the nearby observation platform.  
Glass-Walled Public Toilet, Sulphur Springs, Texas

Feeling adventurous or in the mood for some voyeurism? Head to Celebration Square, in downtown Sulphur Springs, where two glass-walled toilets with one-way mirrors on the inside await. Sit comfortably and watch the world pass by safe in the knowledge that they cannot see you; however, do expect bystanders to press their noses up against the walls. The toilets were inspired by a traveling art installation called Don't Miss a Sec by Monica Bonvicini. There needs to be more light on the outside than the inside for the mirrors to work, so just hope that the exterior LED lights are switched on if using them after dark.  
Conrad Rangali, Maldives
Take your love of the ocean to the next level with this bungalow bathroom at the Conrad Maldives Rangali Island. Unhampered views of turquoise waters and a nice breeze while you contemplate your paradise surroundings sounds like just the ticket. The resort has its own undersea suites, overwater bungalows, and more so this isn't the only stunning view on location.
OdySea Aquarium, Scottsdale, Arizona
Have you ever fancied shark cage diving but never quite built up the courage to do so? The bathrooms at Scottsdale's OdySea Aquarium might just be the next best thing. After relieving yourself, you can wash and dry your hands in front of an enormous glass window while watching as sharks, including 8-feet (2.4-meter) long lemon sharks, and schools of brightly-colored fish swim by. This bathroom is so cool that it made the 2017 Hall of Fame as the winner of America's Best Bathroom Contest.
Reed Flute Cave Toilets, Guilin, China
Be one with nature at the Reed Flute Cave restroom in Guilin, China. Surrounded by lush vegetation seen through clear glass walls, you'll forget why exactly you stumbled in here in the first place. The Reed Flute Cave, a natural cave system lit by artificial, multi-colored lights, are a star attraction of the region, and it makes sense that their bathroom matches their vibrant style.
Sketch London, London, England
Sketch London is an eccentric tea room by day and an innovative cocktail lounge at night, but it's the bathrooms that often leave the most lasting impression. As you leave the dimly-lit bar and restaurant area you emerge into a bright space with an arched ceiling illuminated by multicolored glass tiles. Here you'll encounter 11 egg-shaped pods for you to do your deeds while wondering if you are about to get abducted by aliens. Adding to the quirkiness is a maid dressed in Victorian-era clothing to guide you safely back to your table, where you can order more drinks in preparation for a return to the supernatural.
Minturn Public Restrooms, Minturn, Colorado,
Voted America's Best Restrooms in 2015, these public restrooms appear more like a modern art installment than a place to relieve yourself. Located in the former mining town of Minturn, the restrooms were inspired by the town's history and designed to look like a passage into the Rocky Mountain mines. Job well done, we say.  
Source
https://blog.thediscoverer.com/the-coolest-bathrooms-in-the-world/