We are super excited to share a post written by Heather from 4 Radical Roadschoolers And A Fat Cat. Her and her family spent 3 months in Colorado skiing so she is the perfect expert to share the best family ski resorts in Colorado. Enjoy!
In early 2019 we spent 3 months at a fabulous ski destination in Colorado where we were able to ski at 5 different resorts. We think these are some of the best ski resorts in Colorado, if not the entire United States. Check out our list below!
Breckenridge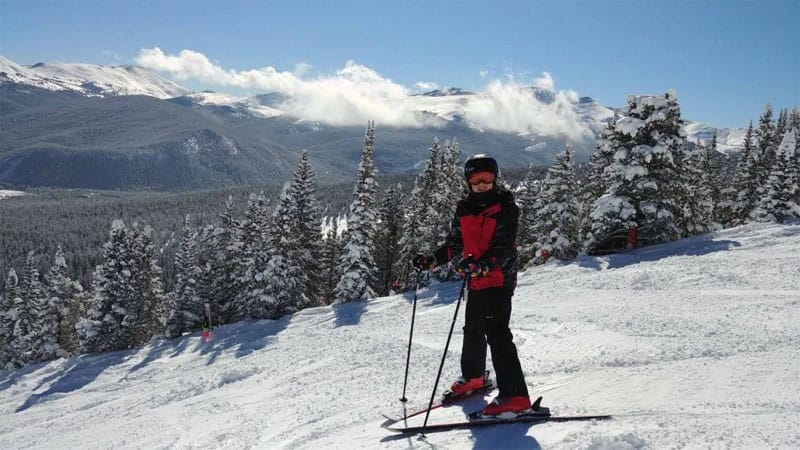 All the ski resorts are amazing, Breckenridge was definitely our favorite. The town of Breckenridge has such a cool mountain town vibe, there is a free shuttle that will take you pretty much anywhere in the area, and Tiger Run RV Resort in Breckenridge where we stayed was awesome. In addition, the ski area is huge with 5 peaks! Perfect for a ski vacation.
Trails
There is something for all skill levels at Breckenridge, from beginner and intermediate to expert. Making it a great ski trip destination. You could spend weeks skiing at Breckenridge. And the snow is the softest, most amazing powder I have ever skied on!
187 trails at Breckenridge ski resort spread across 5 peaks. There are lifts to take you to most of the trails and to the different peaks. It took us several visits to get the hang of getting around and finding our way to the different peaks and trails. There is also a ski school if you are just learning.
Peak 9
Peak 9 is the place to start for beginners and intermediates as well. At the base of it you can take the 6 person Quicksilver lift up to some really nice beginner terrain. Beginner trails are indicated by a green circle and are referred to as green trails.
On Peak 9 there are 2 really fun and easy Kids Adventure Zones: the Haunted Forest and Ripperoos Forest. These are fairly flat trails through the woods with fun props, but not too flat where you have to walk. It's a great place for kids to practice their turning skills, and have some fun.
A couple of our favorite trails are Upper Lehman (intermediate) and American (advanced). Both trails have some moguls and several off-shoots into the woods. We love those little trails that venture off into the woods which are created by other skiers throughout the day.
Peak 10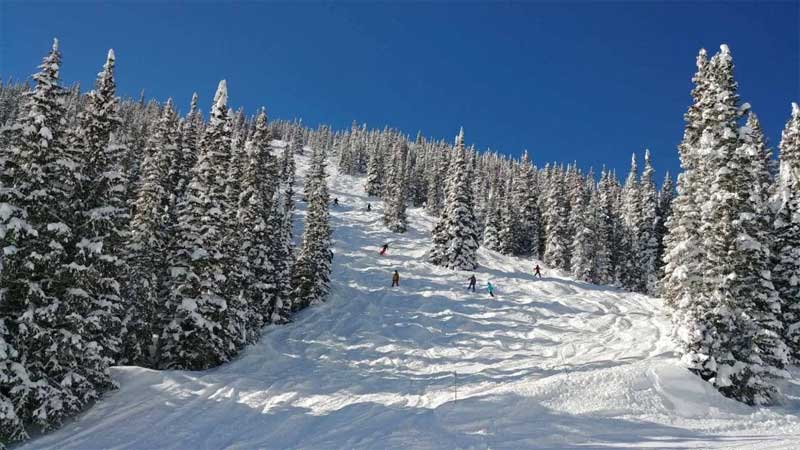 From the top of the Quicksilver Super6 lift you can access the Falcon Superchair, another 6 person lift which will take you to Peak 10. This one goes to advanced terrain only. Advanced or expert trails are indicated by a black diamond or a double-black diamond which are even more advanced.
Our favorite trails on Peak 10 are Corsair and The Burn. Both are advanced and full of moguls, but so much fun if you're up for it.
Peak 8
You can get to Peak 8 using the Peak 8 SuperConnect, a 4 person chair. This chairlift is really an engineering marvel. It crosses over 2 other chairlifts and turns midway up the mountain, with a mid-point loading area for other skiers.
The first time we rode up the Peak 8 SuperConnect, our kids were still beginners, and they started to get really nervous about halfway up when they saw the intermediate trails. They saw the mid-point loading area and were relieved for the chance to get off the lift; that is until they realized it's only a loading point, not an off-loading point. Don't worry, they survived!
Peak 8 has so many options! Springmeier is a great option to start, especially with kids. Even though it's intermediate, it's a slow-zone family trail where they monitor your speed and make sure you're not going too fast. Breck has several of these slow-zone family trails.
These types of trails are great for kids and anyone just getting used to skiing on an intermediate trail. Intermediate trails are sometimes referred to as blue trails and are indicated by a blue square.
It's hard to choose a favorite at Peak 8 because there are so many. By the end of the season, my 14-year-old had gotten to the point where he really liked the advanced double-black diamond trails. He insisted I try out trails like Goodbye Girl and Devil's Crotch which are super steep with moguls; that was hard!
If you're up for a different kind of adventure, you might want to try out a terrain park. There are plenty of those at Breck ranging from easy to extreme.
We watched some snowboarders going over some very large jumps at one of the terrain parks. There is a nice viewing area on the 4 O'Clock Trail at Peak 8 where you can watch extreme skiers and snowboarders doing some amazing jumps.
While at Peak 8 you can also access the highest chairlift in North America, the Imperial Express, as well as the T-Bar. Both of these lifts will take you to several options for advanced trails. These trails were still open even into May and June due to the higher elevation and record amounts of snow for the year.
Peak 7
Moving along to Peak 7, you will have several options for some really nice intermediate trails. Our favorites were Angel's Rest and Wirepatch.
Wanderlust was our favorite advanced trail because it had some unique sections going up and down hill as well as through some trees. Part of the Wanderlust trail is actually on Peak 6, but we accessed it from the lodge at the top of Peak 7.
Peak 6
Peak 6 goes up high above the tree line like Imperial Express at Peak 8, which means it is at a higher elevation and was also open with plenty of snow in May and June. Once you get up that high, the views of Breckenridge are just incredible!
The trails are a little harder to distinguish from each other once you get up that high because there are no trees separating the trails. Our favorite trail on Peak 6 was Nirvana.
With 187 trails, I can't possibly mention them all, but you can see more information about the terrain and lift status here: Breck Terrain and Lift Status.
Activities
So, you might be wondering with all of those fabulous trails to ski on, did we have time to do anything else in Breckenridge? Yes, we did!
Sledding at Carter Hill is amazing, and free! From Carter Hill you get an amazing view of the slopes at Breck which are so beautiful in the evening when the sun is setting.
Another option for sledding and tubing is at Frisco Adventure Park. This is not free, and we did not get a chance to go there, but it looks like a lot of fun.
Eating
There are so many amazing places to eat right on Main Street in Breckenridge. Taking a stroll up and down the street and visiting the shops and restaurants is a great activity to do in the evening after a fun day of skiing.
One of our favorite restaurants is Downstairs at Eric's. This restaurant is always crowded, but while you're waiting for a table, you can entertain the kids in the game room which includes several retro arcade games. This place is super kid-friendly!
We also liked Ollie's and CB Potts.
A great restaurant for après ski is Sevens Restaurant at the base of peak 7. You can finish your ski day by skiing right to Sevens, and later hop on the gondola which will take you back into town where you can catch a shuttle to where you are staying.
As far as eating lunch during your ski day, you may want to consider packing a lunch. The lodges on the mountain are overpriced for lunch in our opinion.
We had lunch at the quick-service Vista Haus at the top of the Colorado SuperChair on Peak 8 and it cost $70 for our family of 4, and we didn't even get drinks besides free water.
Ski Resort Pro's
5 peaks and 187 trails, you won't get bored
Many trails for all skill levels
Free shuttle
Gorgeous views
Great ski town with lots of shops and restaurants
Year-round RV resort in town for those of us who like to spend the winter in our RV
Nearby sledding hill
Ski Resort Con's
Can be crowded on the weekends
Lack of reasonably priced restaurants for a family to eat lunch on the mountain during the ski day
Is it good for families?
Breckenridge is excellent for families! We stayed at Tiger Run RV Resort and there were several other Fulltime Families staying there for the winter months.
The Kids Adventure Zones on the slopes are also super fun for kids. The employees working the ski lifts are very attentive to kids and make sure they can safely load the lift, and they quickly jump in and help when a child has trouble.
Summary
Of the 5 resorts we skied at during our 3 month stay, Breckenridge was definitely our favorite. With 5 peaks and so many trails, we never got bored of skiing there. We also really enjoyed staying right in Breckenridge for the season and getting to know other families that were there as well.
However, as much as we loved skiing and staying in Breck, we also really enjoyed the other 4 resorts we were able to ski at.
You may be wondering what to do about a lift ticket. Since we were staying in the area for 3 months, we purchased the Epic Local Pass which includes several ski areas besides Breckenridge including the other 4 resorts that I will talk about next. You can purchase an Epic pass for the season or just for your length of stay.
Ski Lift Tickets and Ski Rentals – there are a variety of options for ski lift tickets and rentals (including ski and snowboard rentals).
Epic Pass – plan to ski at more then one ski resort this season? Click here to check out the Epic Pass.
Lodging – there are a variety of lodging options at Breckenridge and the surrounding area.
VRBO – If you would rather have a home away from home, VRBO offers great options. Click here for more info on the VRBO rentals in the area.
Arapahoe Basin
Arapahoe Basin (also known as A Basin) was incredible, but sadly it will not be included as part of the Epic Pass any longer. Our first day skiing with our kids was at A Basin because they had the best price for ski lessons.
Our kids had an excellent instructor for the day, and even though they had never skied before, by the end of the day they were showing us their new skills taking us down the beginner slopes.
Trails
Arapahoe Basin is a smaller ski area, but still has 147 trails. At the bottom of the mountain is a tiny ski hill called Molly Hogan where the beginner ski school lessons start.
From the base of the mountain, the Black Mountain Express 4-person lift takes you to some really nice beginner trails. After our kids' lessons ended for the day, they were ready to take this lift and try some of the easy trails like Wrangler and Sundance.
Once you're ready to venture to some intermediate trails, from the top of the Black Mountain Express you can ski right over to the Lenawee Mountain 3-person lift that takes you to the top of the mountain.
From the top you have several options: you can ski some great intermediates back down to the bottom where you started, or try some intermediates and advanced on the side called the Beavers or the back Montezuma Bowl (our favorite).
I personally think the Intermediate trails at A Basin are harder than those at Breck. The Intermediates here would probably be considered Advanced at Breck; some are quite challenging.
The views from the top of Montezuma Bowl are amazing! Our favorite trails on this back bowl are Columbine and Miner's Glade. Miner's Glade is through the trees with moguls so it's pretty difficult. I may or may not have run into a few trees skiing through there! 😉 Our kids loved Eureka which was very difficult, and I only attempted that once or twice.
Activities/Eating
Arapahoe Basin does not have any lodging options, and there are not any extra activities to do there besides skiing and snowboarding.
Eating is also limited to the ski lodges. Black Mountain Lodge has good food that is reasonably priced, and the waffle fries are delicious if you just want an afternoon snack. All the lodges at each resort provide cups and water fountains so you can stay hydrated during the day, which is important at the higher elevations.
Ski Resort Pro's
Excellent ski school
Higher elevation making for excellent ski conditions even into springtime
Gorgeous views from the top of the mountain
Less crowded than other ski resorts in the area
Free parking
Ski Resort Con's
Limited parking, especially on weekends (but free so I can't complain!)
No longer included on the Epic Pass
Is it good for families?
Arapahoe Basin is a very kid friendly Colorado ski resort. The ski school was great for our kids, they learned in one day and were able to ski with us for the rest of the season with no problem. In fact, by the end of the season they were skiing better than us!
Summary
Arapahoe Basin was our youngest son's favorite ski area, and we're all disappointed that it will not be included with the Epic Pass anymore. We enjoyed going there on Sunday afternoons when we hoped the parking lot might have cleared out some, but weekdays were the best time to go when it wasn't crowded at all.
Lodging – there aren't any hotels in Arapahoe Basin, but there are some in Keystone, about 20 minutes away.
We recommend the Keystone Lodge & Spa or the Hyatt Place Keystone.
VRBO – If you would rather have a home away from home, VRBO offers great options. Click here for more info on the VRBO rentals in the area.
Beaver Creek
Beaver Creek was about an hour drive from where we stayed in Breckenridge so, unfortunately, we only went there once just before they closed for the season. I say "unfortunately" because we loved it and wished we would have spent more time there.
Beaver Creek is close to Vail which I will talk about later, and they share the ECO transit system that will take you between the two ski areas.
Beaver Creek and Vail both have adorable ski village areas with shops, restaurants and lodging. If you stay at one of these ski areas, you could easily go back and forth between the two using the public transportation system.
Trails
We started at the Centennial Express Lift where you can access trails for all skill levels including one of our favorite Kids Adventure Zones — Tombstone Territories. From the top of Centennial Express you can access other lifts that will take you all the way to the summit for some more great trails for all skill levels.
We came across a double-black diamond trail called 4 Get About It, and that's exactly what I should have said when my kids wanted to try it. This trail was through woods and trees, and steep with lots of moguls. I thought it was extremely difficult, but my kids thought it was so much fun they skied that trail 4 times that day.
Since we only had one day we did not get to ski as much of Beaver Creek as we would have liked, but we did manage to make it to the Arrowhead Mountain side which involved some walking trails.
What I mean by "walking trails" is these are trails that are considered green/easy, but they are so flat that sometimes you need to "walk" with your skis on and push yourself along with your poles. When we come across flat terrain like that, we try to pick up as much speed as possible before that flat section starts to limit how far we have to walk.
The Arrowhead Mountain side was lots of fun and worth the extra effort required to get there. Most trails on that side are blues and greens. If you are looking for some black diamond trails, head up to the Grouse Mountain area which is an entire mountain with black diamond/advanced trails.
Activities
In addition to skiing, you can enjoy ice skating in Beaver Creek Village. A special treat that is unique to Beaver Creek is freshly baked chocolate chip cookies every day at 3pm.
Ski down to the base of the Centennial Lift and find a Cookie Time Chef walking around with a platter of yummy cookies. This should give you just the afternoon boost you need to finish out the last hour of the day on the slope side.
Eating
There are several dining options available at Beaver Creek. If you just want to stop for a quick lunch on the mountain, there are several to choose from including Broken Arrow and Mamie's Mountain Grill. These restaurants have indoor and outdoor seating in a casual, kid-friendly atmosphere.
Beaver Creek Village has plenty of dining options for après ski. If we didn't have an hour long drive home we would have loved to try out one of those. Maybe next time we'll see if we can find a place to stay for the weekend and enjoy more time in the village.
Ski Resort Pro's
Free cookies at 3pm every day
Free public transportation around Beaver Creek and to Vail
Lot of Kids Adventure Zones
Spectacular views
Ski Resort Con's
An hour away from Breck (not really a con, but it was to us since we were staying in Breck)
Is it good for families?
Beaver Creek is great for families with several Kids Adventure Zones and free cookies. Also Haymeadow Park is a dedicated learning area that is great for kids just getting started. They even have an ice cream parlour!
Summary
We absolutely loved Beaver Creek! I was sorry we waited until the end of the season to finally get there. From Breckenridge, it requires a drive over the Vail Pass which can be tricky during the winter, so we kept playing it safe and stayed closer to Breck. Next time we will make an effort to spend more time at Beaver Creek.
Ski Lift Tickets and Ski Rental – there are a variety of options for ski lift tickets and rentals (including ski and snowboard rentals).
Epic Pass – plan to ski at more then one ski resort this season? Click here to check out the Epic Pass.
Lodging – there are a variety of lodging options at Beaver Creek and the surrounding area.
VRBO – If you would rather have a home away from home, VRBO offers great options. Click here for more info on the VRBO rentals in the area. 
Keystone
Keystone was only about a 15-20 minute drive from where we stayed in Breckenridge. Our favorite thing about Keystone is they have night skiing.
Since we work during the day, most of our skiing was done on weekends. But since Keystone stayed open at night we were able to go there on weeknights after work. There is something so peaceful and serene about skiing at night!
Trails
Keystone has one of the longest green (easy) trails in the country. It's called Schoolmarm and it's 3.5 miles long. It's a wonderful trail for beginners and families with kids just learning to ski.
From the base of the mountain at River Run Village, you can access either the Summit Express chairlift or the River Run Gondola to ride up the mountain. The gondola is really nice on cold days, and it's only one of two lifts open for night skiing.
From the top you can access the easy Schoolmarm trail or some really nice blue/intermediate trails like Spring Dipper, Frenchman and Wild Irishman.
Some of the intermediates are steep and fast, while others are full of moguls. Our kids love moguls, but I prefer the other trails without moguls.
From the top you can also ski down the other side of the mountain to access Keystone's back bowls. The back bowls have a few blue/intermediate trails, and lots of black diamond trails.
For most of the season we skied at Keystone at night when the back bowls were closed, but we finally went during the day and loved the black diamond trails there. Pika Glades and Wildfire were a couple of our favorites.
Activities
Besides skiing, you can try out the tubing hill and climbing around a snow fort at the top of the mountain. Kidtopia Snow Fort is really cute, and you don't even need skis to go there. You can ride the gondola to the top, and walk over to the snow fort and tubing hill.
Keystone also has 2 ice skating rinks. Ice skating is available on Keystone's 5 acre lake or at Dercum Square in River Run Village.
Eating
Keystone's River Run Village has many dining options and après ski happy hour spots. After a full day on the slopes, you can unwind with a couple of drinks and dinner, and then hit the slopes again for night skiing afterwards if you feel up to it.
There are several on mountain dining experiences including a fondue restaurant. Der Fondue Chessel involves a ride on 2 gondolas to a magical mountaintop dining experience that is fun for the whole family. It's quite pricey so we didn't go there, but it looks like a fabulous place to splurge on a special occasion.
Ski Resort Pro's
Night skiing
Free parking after 2pm
Gondola lift for those extra chilly days
Cute ski village with ice skating
3.5 mile long family-friendly beginner trail
Ski Resort Con's
Lower elevation than Breck and A Basin so skiing ends in early spring
 Long lines for the gondola at times when other lifts are closed
Is it good for families?
Keystone is definitely good for families with several Kids Adventure Zones, the Kidtopia Snow Fort and the long slow-zone beginner trail where speed is monitored for kids' safety.
Summary
As I mentioned, most of our time spent at here was at night. That was a mistake, and we missed out on more opportunities for skiing the back bowls.
We plan to return for another season of skiing, and will definitely plan for more daytime skiing at Keystone. Maybe we'll even try out some of the fabulous dining options.
Ski Lift Tickets and Ski Rental – there are a variety of options for ski lift tickets and rentals (including snowboard rentals).
Epic Pass – plan to ski at more then one ski resort this season? Click here to check out the Epic Pass.
Lodging – there are a variety of lodging options at Keystone and the surrounding area.
VRBO – If you would rather have a home away from home, VRBO offers great options. Click here for more info on the VRBO rentals in the area. 
Vail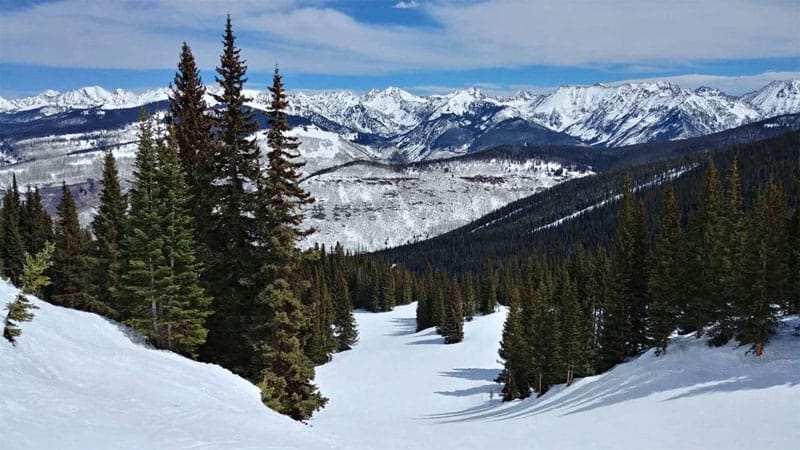 I imagine some people will think I'm crazy to say this, but Vail was the least favorite of the 5 ski areas we went to. I'm pretty sure the reason for this is that we went in April on their closing weekend. That means that it was kind of hot, the snow was slushy instead of powdery and it was very crowded.
We also found that parking was very limited and expensive compared to the other ski areas. We parked at Lionshead Vail Square and it cost us $30 to park for the day which seemed excessive to us.
Trails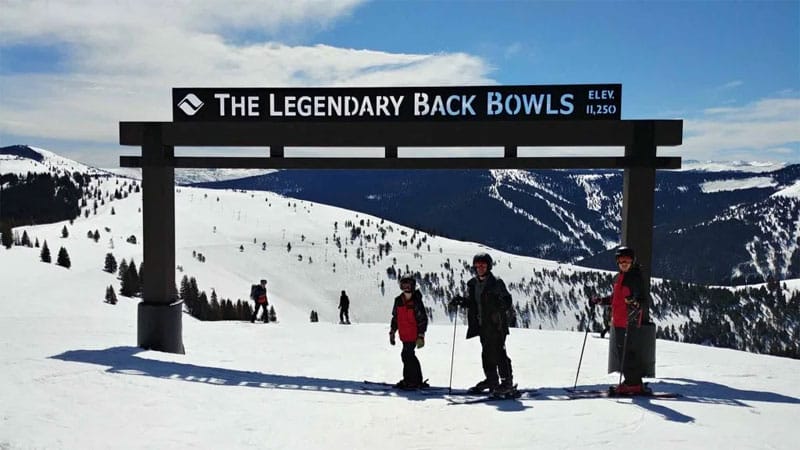 We started by riding up the Eagle Bahn Gondola and skied down Born Free. There are several green and blue trails to choose from at the top of the gondola, as well as a few short black diamond trails.
The whole front side of the mountain has trails for all skill levels, but if you're looking for some advanced black diamonds, head on over to the Legendary Back Bowls. The back bowls are mostly black diamond trails with a few blue intermediates.
Since we were there on closing weekend, several trails in the back bowls were already closed for the season, but we were at least able to ski the section that was still open and it was awesome! I can see why it's called "Legendary" and we look forward to going back again and trying some more of that area.
Activities/Eating
In addition to skiing, Vail has some awesome winter park activities at Adventure Ridge like ski bikes, a kid's snowmobile track, snow tubing and an alpine coaster. You can also take a scenic gondola ride to see amazing views of Vail Valley. Like Beaver Creek, Vail has an adorable ski village with lots of options for dining and lodging.
Ski Resort Pro's
Beautiful views
Gondolas for those extra cold days
Legendary Back Bowls
Cute ski village for dining/lodging
Ski Resort Con's
Very crowded
Limited and overpriced parking
Is it good for families?
Vail is good for families, but it seemed like more of an upscale kind of place that may not seem as family-friendly as the other ski resorts we went to. There were some Kids Adventure Zones, but we had a hard time finding them.
There are some great Airbnb's for families in Vail including some ski in and ski out options.
Summary
I think we definitely need to give Vail another chance. What we would like to do next time is find a nice place to stay for a few days at Beaver Creek, and ride the shuttle over to Vail for a day or two. That way we don't have to pay for parking, and we can head back to the more family-friendly Beaver Creek for dinner in the evenings.
Ski Lift Tickets and Ski Rental – there are a variety of options for ski lift tickets and rentals (including snowboard rentals).
Epic Pass – plan to ski at more then one ski resort this season? Click here to check out the Epic Pass.
Lodging – there are a variety of lodging options in Vail and the surrounding area.
VRBO – If you would rather have a home away from home, VRBO offers great options. Click here for more info on the VRBO rentals in the area.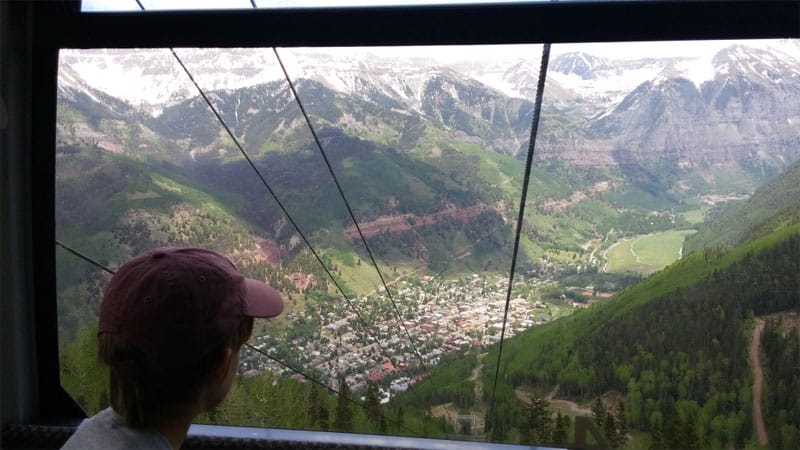 Telluride, in the San Juan Mountains, looks like an amazing winter ski area. We have only been there in the summer, but love it so much we've been 3 times. I wrote a blog post about our second visit there in 2016: A Return Visit to Telluride.
In the summer they have free parking in Mountain Village where you can hop on the free gondola that takes you into Telluride. The views from the gondola ride are amazing, and both Mountain Village and Telluride are super cute towns to visit.
Crested Butte would be another great Colorado ski destination, located south of Aspen highlands/Aspen Snowmass. Crested Butte is known for some of the best extreme terrain in the United States. They are also included on the Epic Pass.
Copper Mountain is another ski area right off I-70 that we passed on our way from Breckenridge to Vail and Beaver Creek. It is not included on the Epic Pass so we didn't go there, but from the road we saw an awesome terrain park that looked like lots of fun.
Also, the Rocky Mountain Coaster is open year-round which we may want to try next time we're in Colorado.
Lastly, Steamboat Springs sounds like an epic winter destination where you will find the only ski resort with trademarked snow called Champagne Powder. Steamboat's snow is unique because it averages 6 percent water as opposed to the 15 percent. Which is typical at other ski areas, and is known to tickle your nose like champagne. There are also hot springs in the area if you want to check them out.
Epic Mix
If you plan to head to any of the ski areas included with the Epic Pass, you may want to download the Epic Mix app on your phone. With the Epic Mix app you can view snow conditions. View photos taken by professional photographers on the mountain, and view current lift line times.
You can also participate in Epic Mix Racing with your friends and family and view your race times in the app.
By the end of our 3 month ski season I was able to see in the app how many days we spent skiing. How many lifts we rode and how many vertical feet we went. Seeing the stats like that at the end of the season showed me that we definitely got our money's worth out of our Epic Passes.
In summary, the 3 months we spent skiing in Colorado were some of the best memories we have made since we started traveling full-time with our kids. We can't wait to do it again!
Check out more posts like this:
The Top 14 Best Family Ski Resorts To Visit This Year
All The Details On The Amazing Wilmot Mountain Ski Resort
32 Spectacular Things To Do In Lake Tahoe [Maps Included]
A Guide To The Best Yellowstone Vacation and Beyond
8 Breathtaking Places To Visit Near Yellowstone National Park
Pin this for later:
The post The 5 Best Family Ski Resorts In Colorado appeared first on Crazy Family Adventure.
This content was originally published here.