SOUTH SALT LAKE — A new report from Salt Lake County finds that nearly 90% of county residents are properly wearing face coverings in public about two months into the county's mandate.
In addition, the county's health department director said health officials are expecting an update on a possible COVID-19 vaccine from the Centers of Disease Control and Prevention as early as this week with the possibility of that vaccine being available for some Utahns by the end of the year.
The findings of the report and other COVID-19 updates were released during a Salt Lake County Council televideo conference Tuesday afternoon.
David Schuld, Salt Lake County intelligence section chief, said the Salt Lake County COVID-19 Response team observed 2,874 people at 130 locations without signage in five counties across the state and Logan. The locations observed included grocery stores, all sorts of different retail stores and convenience stores.
It found 96.6% of people observed in Salt Lake County wore some kind of face covering but 8% were not wearing that covering properly, meaning about 88.6% wore masks effectively. Schuld also noted that the lowest mask usage area — in the southwestern portion of the county — still had a rate of 87.6%.
More results of the study are expected to be released later this week.
The study was an update to survey results released on July 22 that found 96% of customers and 99% of employees were properly wearing face coverings, of the 1,094 people in Salt Lake County they observed during a short span. The update, officials said, was more expansive than the initial mask usage study.
Gary Edwards, director of the Salt Lake County Health Department, said the first round of vaccinations could become available in December with health care workers, first responders and patients of long-term facilities receiving the first dosage. Additional doses are expected to be available after that.
"As we get into late winter and early spring, getting large numbers that would be available for the general public," he said. "We are working on prioritizing how vaccines will be distributed once we get beyond the initial group of health care, first responders and long-term care. We are working to have sound plans in place for mass vaccination whether that be we have 300,000 doses to give in a week or 3,000 doses to give in a week."
He added the health department is working closely with schools, which were interested in hosting where those vaccinations would take place. In response to a question about any fears residents might have about a vaccine, brought up by Salt Lake County Councilmember Shireen Ghorbani, Edwards said the state and county health departments have received federal funding to hire community health workers that work with certain communities as a liaison to areas skeptical of testing and vaccines.
During Tuesday's meeting, Salt Lake County Mayor Jenny Wilson touted the county's continued lower numbers since it ordered a mask countywide mandate.
Wilson's mask mandate for Salt Lake County went into effect on June 27. It has since been extended for the remainder of the year. As of Tuesday, Salt Lake County had a seven-day running average of 154.9 cases per day, according to data from the Salt Lake County Health Department. That's a decline of about 68 cases per day from a month ago.
The county's seven-day running average has steadily fallen since it reached 305.3 cases per day on July 12 — a little more than two weeks after the county's mandate went into effect. The average as of Tuesday is nearly half of where it was then.
"We continue to see case declines on average," Wilson said during the meeting. "There'll be certain dates where we'll have a little higher case counts and then we'll drop a little lower but we're generally seeing really strong declines, which is great."
Schuld explained that the current COVID-19 case counts in Salt Lake County are akin to the situation in mid-June, which was shortly after the county and state's coronavirus case counts soared. He said he believes case counts can drop lower if residents continue to social distance outside their homes, wear masks in public where social distancing is impossible, and practice good hygiene measures.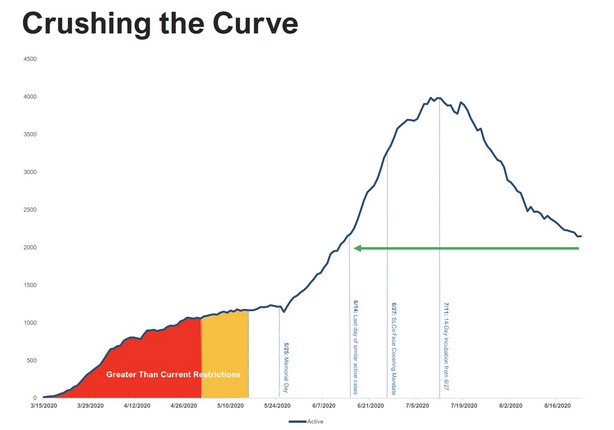 Some of the lower case count is due to a decline in testing; however, Edwards explained the positivity rate began to fall with aggressive testing and the need for testing has started to fall in recent weeks. The test positivity rate dipped slightly to 8.9% from 8.95% last week.
The department has started testing targeted areas to focus on populations "overly impacted" by COVID-19, Edwards added. The county's hospitalization rate is 5.8% — with new hospitalizations down 68% from its peak 1½ months ago — and the mortality rate is a tick under 1% in the county, according to Schuld.
County officials are concerned that the return of school might lead to an uptick in new cases, however. The county and state health department is expected to update COVID-19 data dashboards to include school case locations, county officials said Tuesday. Edwards said that the dataset might be available as early as this week.
The current county health department dashboard does report outbreaks, which include schools. There have been 13 outbreaks and 72 cases in Salt Lake County schools since March. It reports six outbreaks and 30 COVID-19 total cases in August with the worst being six cases tied to one outbreak.
In an effort to combat school outbreaks, the county provided $10 million to the five school districts in the area for COVID-19 upgrades. It's in the process of providing staffing and remote learning help for charter schools, as well, Wilson said.
Edwards said the county health department has spoken with schools about a plan to "ramp up" testing at a school possibly within 24 hours after a case is reported so students and faculty possibly at risk can get tested.
"We're doing what we can to support schools and we're pleased with declining counts as we go into school (openings)," Wilson said, adding schools figure to be the county's "next mountain to climb."
More stories you may be interested in
This content was originally published here.