SALT LAKE CITY — Salt Lake County officials have launched a new tool aimed at making sure homeowners aren't caught off guard by deed fraud.
Imagine a stranger showing up one day to evict you from your own home. All a crook has to do is record your house in his or her name and it can be an expensive mess to straighten out.
These horror stories of deed (or title) fraud from around the country caught the attention of Salt Lake County Recorder Rashelle Hobbs.
KSL TV was exclusively invited to be there Tuesday as her office launched the tool to help keep homeowners aware of any changes regarding their property.
The program is called "Property Watch." Salt Lake County property owners were encouraged to register an email address so the county can notify them "anytime anything is recorded on their property," Hobbs said.
"This new service will be a great resource to help prevent title fraud," she said.
In some bizarre situations, squatters have been known to record a property in their name, making it time-consuming and expensive to kick them out.
"It's certainly something that we don't want any Salt Lake County property owner to be a victim of," Hobbs said. "It's a way of being proactive and it's a way of being empowered knowing that any recording on your property you'll have notification on."
Hobbs said her office has not seen a spike in deed fraud in Salt Lake County, but it is an issue that has led to similar action in Philadelphia, according to KSL TV's sister station NBC 10.
Registering takes less than a minute. Property owners are asked to provide their property address, name and email address.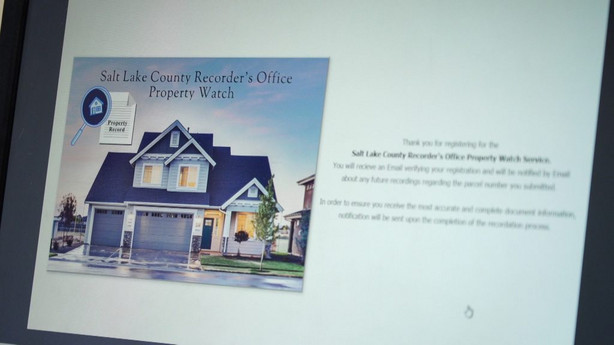 "Property Watch" will help prevent title fraud and any surprises. Frequently, someone will go to buy, sell or refinance their home, only to learn a contractor has slapped a lien on the property.
While KSL TV was at the recorder's office early Tuesday, officials got a call from someone who had registered and, lo and behold, had a lien on their property they did not know was there.
The program is free for county residents and was developed internally by a recorder's office staffer. Hobbs said purchasing a program would have cost taxpayers about $150,000.
"It's been months in the making," Hobbs said. She added they "had hoped to launch it a couple of weeks ago," but the COVID-19 pandemic forced them to put a pin in it while they figured out how to keep the office running.
The recorder's office was deemed to be an "essential" operation since real estate transactions would stall without the ability to record deeds.
Hobbs said with interest rates slashed, many people are refinancing and her office has seen a 47% increase in recorded transactions. Meanwhile, 75% of the recorder's office staff were working remotely to adhere to social distancing guidelines.
If you want to register for Property Watch, you can do so on the county recorder's website.
More stories you may be interested in
This content was originally published here.